To be a successful Lego® investor, it is important to analyze sets correctly and to be able to recognize investment potential.
When analyzing Lego sets, it is important to be able to distinguish relevant themes from irrelevant themes. In this guide we show you how to analyze Lego sets step-by-step and how to make a decision for a potential investment. We will also go into detail about which websites are important sources of information for the analysis. Finally, we show you which Lego sets can still be an attractive investment in 2022. 
Lego® Investment Basics
In advance, the question arises as to why Lego® sets increase in value at all. This depends on various factors. One of the most decisive points is the scarcity of sets by the Danish brick company. Lego sets usually go EOL (End of Life) 2 to 3 years after their release. Accordingly, the sets are no longer produced and prices on secondary market places such as BrickLink or eBay rise. 
The theme is also important for the increase in value. Consequently, not all sets necessarily increase in value. Particularly well-known themes that are also relevant for investments include Harry Potter and Star Wars.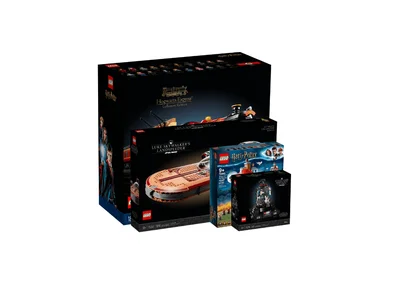 The exclusivity of Lego sets is another factor that is important for a successful investment. For example, not all Lego sets are available in free trade and are sold exclusively by Lego itself and a few exclusive partners such as Amazon or Galeria. These Lego sets can rarely be bought below the RRP.
Last but not least, the collecting potential of individualLego themes is another important factor. BrickHeadz and Modulars from the Creator Expert theme are extremely popular with mainly adult collectors.   
You can find detailed information about Lego investments in our Lego Investment Guide.
Lego® Investment Criteria: Checklist
In order to be able to create a Lego® investment analysis, it is important to know relevant criteria and to include them in the analysis. Based on the criteria, it is possible to create analyses and make potential purchase decisions without much effort. In the next paragraphs we will introduce you to our investment criteria and show you how to successfully analyze Lego sets.
Theme decisive for investment
The right theme world is one of the most important investment criteria when analyzing Lego® sets. Accordingly, not every theme is necessarily suitable for an investment. Well-known and popular Lego themes are particularly relevant for investments. Licenses are also a decisive factor. Licenses relate, for example, to themes themselves, such as Disney or Harry Potter, or to individual sets within theme worlds. The licenses of the Lego Speed Champions can be cited as an example. These include, for example, licenses from Audi, Ferrari or Porsche.
In the following you will find examples of theme worlds that are interesting for a Lego investment.
Harry Potter
The Harry Potter films enjoy worldwide popularity and have a large fan community. The Lego Harry Potter theme of the same name has many interesting sets ready for both children to play with and adults to collect. 
The theme is timeless and sets often include exclusive minifigures, which equates to positive investment potential. 
Star Wars
Similar to Harry Potter, the Lego® Star Wars sets are also interesting for investments. The Lego® sets recreate well-known movie scenes from the Star Wars saga. The Ultimate Collector Series sets are particularly interesting for Lego investors. As a rule, these are large sets that are suitable for collecting and appeal particularly to adult Lego fans.
Creator Expert
The sets in the Lego® Creator Expert theme are mostly building sets that are specifically designed for adults. The theme world, which is popular with AFOLs (Adult Fan of Lego), is particularly interesting for investment analysis because of the Modulars.
Want to look up Lego terms like AFOL? In our detailed Lego glossary we have explained the most important investment terms for you. 
Other themes relevant to Lego Investments include:
Value increase due to collection potential
The collection potential is an equally important criterion for Lego® investments. If a Lego set has a high collection potential, it is interesting for an investment analysis. 
The adult target group accounts for a significant share at the Danish brick company. Consequently, every tenth euro is generated by this target group. Among the adult Lego fans are many collectors who, on the one hand, buy Lego sets for nostalgic reasons or want to complete parts of their collection. 
Especially worlds or series consisting of several sets have a high collecting potential. Often, at least one set is released per year. These include, for example, BrickHeadz or Skylines from the Lego Architecture theme. 
Lego fans who want to build a Lego city often turn to Modulars from the Creator Expert theme. The individual sets of this theme world, like all other Lego sets, are only available for a period of about 2 to 3 years. Those who would like to integrate a restaurant into their city made of bricks will not find anything in the current assortment and will fall back on sets such as the 10260 Downtown Diner or the 10243 Parisian Restaurant from the past.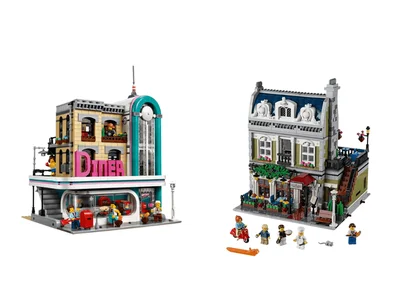 Target group
As already mentioned, adult Lego® fans represent a particularly interesting target group. As a result, the selection of the theme should be made. Themes that are popular with collectors or generally in the AFOL community are interesting from an investment point of view.
Exklusive Minifigures
Lego® sets that contain exclusive minifigures often have good investment potential. Exclusive minifigures only appear in one set. However, there is always the possibility that they will reappear in new Lego sets at a later date. Exclusive minifigures are interesting for licensed themes: 
On Brickset's website you can check how many minifigures are included in a Lego set and if they are exclusive.
Exclusivity
The exclusivity of Lego® sets is also important in the investment analysis. Lego D2C Sets (Direct to Customer) are initially sold by Lego itself. Only afterwards do they reach exclusive partners such as Amazon or Galeria. D2C sets are rarely discounted, so it is often worthwhile to buy them slightly below the RPP. Alternatively, you can buy D2C sets in combination with VIP Points and GWPs.
Figures, Data & Facts
For an objective analysis and assessment of whether a Lego® set is worth an investment, so-called hard facts should be used. In the following, we present the most important hard facts that we consider helpful when analyzing a Lego set.
POV
The POV (Part Out Value) describes the value of the individual Lego® parts that are included in a set. As a rule, the POV is higher than the actual RRP. The POV should have at least a factor of 1.6x. In the Price Guide of the Lego marketplace BrickLink you can see the POV of individual sets.
Parts price
The unit part price indicates the average value of a Lego® unit part in a kit. This is usually higher for licensed sets. If the price per part is in the range of 6 to 9 ct/part, it can be classified as good.
Exclusive Minifigures
The number of exclusive minifigures included in a Lego® set is another important criterion. If the minifigures of a set are exclusive, they often make up a large portion of the RRP. On Brickset it is possible to see how many minifigures of a Lego set are exclusive.
Exclusive Parts
In addition to the exclusive minifigures, it is also relevant whether and how many exclusive Lego® individual parts are present in a set. If a kit contains many exclusive parts, it is also interesting for MOC builders.
Comparable sets
When analyzing a Lego® set, you should use references from the past to help you assess whether a set has potential to increase in value. For example, if you are analyzing the 10297 Boutique Hotel, you might want to compare the set with the 10243 Parisian Restaurant, which also belongs to the Modulars and has a comparable number of parts.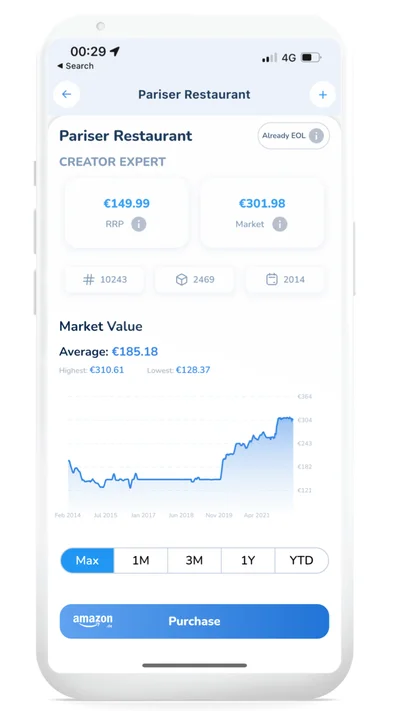 Both on Brickfact.com and in the Brickfact App you can analyze and compare the price graphs of thousands of Lego sets.
Storability
The storability of a Lego® set is also an important evaluation criterion in the analysis. This includes how well the sets can be stacked and how many boxes fit in a cubic meter. In a separate guide, we have summarized what you should consider when storing Lego sets.
Purchase price
Last but not least, the purchase price is probably the most relevant point. True to the motto: "The profit is in the purchase". How to buy sets at the best prices, we have summarized for you in our Find Lego® Deals Guide.
Lego® Investment: Which sets are worthwhile in 2022?
With the help of the investment criteria listed above, you can easily analyze Lego® sets and assess whether they are suitable for investment. In advance, you should select relevant themes in order to achieve the best possible return later on. From websites like Brickset you can get information that is important for your Lego investment analysis.
In the Lego EOL List 2022 from Brickfact you will find a pre-selection of sets that you can analyze. The list contains only sets that will go EOL this year and are therefore interesting for an investment. OurLego Investment Guides serve as further inspiration. You can also find detailed investment analyses on our website.
You want to buy Lego sets at a bargain price? In the Brickfact price comparison you can choose from a variety of providers and save money. The Brickfact app informs you via push notification as soon as a new Lego deal is available. The Brickfact App is free and available for both iOS and Android.