The Lego® world is characterised by different terms. Especially for new builders, this can lead to confusion at first. So that terms like "AFOL" or "Lego Ambassador" don't cause you any difficulties, we will introduce you to the most important Lego terms below and explain their meaning. With these tools, nothing stands in the way of professional building with Lego bricks. 
AFOL explained
The term AFOL (Adult Fan of Lego®) summarises the target group of adult Lego fans. With Lego sets for 18-year-olds and up, the Danish manufacturer of Lego bricks offers a variety of building sets for AFOLs. There are many internet forums where AFOLs exchange ideas on building techniques or building a city out of Lego bricks, for example. MOCs are just as popular with AFOLs.
What is a Lego® MOC?
The term Lego® MOC (My Own Creation) refers to buildings made of Lego bricks that have been designed and built by fans. When building a Lego MOC, creativity is given free rein. Often MOCs are large models that exceed the usual number of parts. In our Lego MOC Guide, we show you how to build your first MOC.
What are the Dark Ages?
The Dark Ages is the period in which Lego® builders turn away from the colourful bricks during their teenage years. They only return to their hobby as adults. Adult Lego fans are called AFOLs.
EOL: What does that mean?
The abbreviation EOL stands for "End of Life" and describes the end of the production life of a Lego® set. The Lego Group only produces its building sets for a short period of 2 to 3 years on average. After that, the sets that have gone EOL are no longer sold by Lego itself. Lego sets that are EOL are often offered at higher prices on marketplaces like eBay.
Part Out Value explained
POV (Part Out Value) is the value of the individual Lego® parts contained in a set. Often, the individual parts (e.g. bricks or minifigures) included in a Lego set have a higher value than the RRP. If you want to find out the POV of a Lego set, you can use the price guide of the Lego marketplace BrickLink.
What are exclusive minifigures?
Lego® minifigures are called exclusive if they are an exclusive part of a Lego set. Exclusive minifigures therefore only appear in one Lego set and often have a higher value than conventional minifigures that are part of several sets. However, it is always possible that Lego will re-release them in a new set at a later date.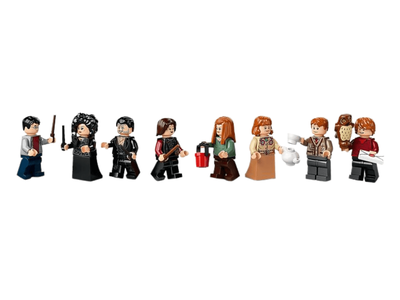 Lego® VIP points explained
When purchasing Lego® sets, it is possible to collect loyalty points within the framework of the VIP Programme. For this, it is necessary that the purchase is made in the official online shop or its customer service or in Lego offline stores. For every 1€ of sales, you receive 7.5 points, which corresponds to a discount of 5%. The collected VIP points can be redeemed for vouchers or VIP gifts.
What is GWP?
GWP (Gift with Purchase) is the term used to describe a free gift with a purchase in the Lego® Online or Offline Store. At regular intervals, small Lego sets are added to the purchase. This is the case, for example, when a certain purchase value is reached or a special Lego set is purchased.
What is a Lego® Ambassador?
The Lego® Ambassador Network (LAN) was founded in 2005 to intensify the exchange between AFOLs and Lego. A Lego Ambassador is a representative of the adult fan community. In 2020, there were 449 Lego Ambassadors who regularly contact Lego to represent the interests of AFOLs. The Lego Ambassador Network supports the Danish brick manufacturer, for example, in designing new sets or themed worlds for adults.
Meaning: Recognized Lego® Fan Media
Recognized Lego® Fan Media, or RLFM for short, are the official media and information sources of the AFOLs. These include blogs, magazines and YouTube channels. One point that is repeatedly criticised is that the RLFMs are not independent and therefore do not report neutrally on new Lego sets, for example. The RLFM channels receive free copies for e.g. reviews of Lego® sets. In addition, the AFOLs have many other media, but these are not officially recognised and are not directly connected to Lego. These media do not receive free Lego sets for reviews and are independent in their actions.
What is a Lego® User Group?
Lego® User Groups, also called LUGs, are associations of adult Lego fans who meet and exchange ideas on a regular basis. Recognized Lego User Groups (RLUG) also belong to the official Ambassador Network and have a representative who represents them in the Ambassador Network.
What is a Stud?
Studs are the characteristic bumps of Lego® bricks. Most Lego bricks have studs, with the exception of tiles, for example. The studs ensure that the individual bricks stick together. In Lego video games, however, studs serve as currency with which new characters or vehicles can be acquired.
Lego® Baseplate: What is it?
Lego® bricks or sets are built on baseplates. The plates have knobs on which Lego bricks can be placed. Lego baseplates are available in different sizes and colours. The plate with 32 x 32 studs is called the standard plate.
Lego® Tiles explained
In contrast to conventional Lego® bricks, tiles do not have any knobs. Lego tiles are often used for decorative building projects. Besides cuboid tiles, there are also round and semicircular variants.
What are Modular Buildings?
The best-known sets in the Lego® Creator Expert theme are Modular Buildings. The modulars are detailed Lego buildings with which a miniature city can be built. These include, for example, the 10278 Police Station or the 10297 Boutique-Hotel. The term "modular" is derived from the fact that the corresponding buildings can be pushed together and the floors are also compatible with each other.
What is UCS?
Large and detailed Lego® Star Wars models like the 75192 Millennium Falcon belong to the UCS (Ultimate Collector Series). The UCS models often have a display plate on which the most important facts and figures of the Star Wars set are written. UCS models are large and expensive sets. They are mainly aimed at adults and serve as exhibition pieces.
D2C explained
Initially, Lego® D2C (Direct to Customer) sets are sold exclusively by the Danish brick manufacturer itself. At a later stage, D2C sets are often also sold by exclusive partners such as Amazon or Galeria. Sets from the Creator Expert orIdeas theme, for example, are sold as D2C sets.
Lego® Glossary: The way to the pro
With the help of the Lego® glossary, you can find your way around the world of the colourful bricks. No matter if it's about specific Lego bricks or if you want to join the AFOL community. 
You want to buy Lego sets at the best price? In the Brickfact price comparison you can choose from a variety of suppliers and buy Lego sets at bargain prices. The Brickfact App informs you as soon as new Lego deals are available. The Brickfact app is free and available for both iOS and Android.