Time and again, there are builders who want to realise their own building projects with Lego® bricks or are looking for themes that are not available from the Danish brick manufacturer. For example, the themes of castles or pirates are only slightly or not at all covered by Lego. Model building fans with a preference for war vehicles and ships will also not get their money's worth with Lego.
Lego MOCs (My Own Creation) are a possible solution for these cases. Adult Lego fans in particular create their own Lego buildings according to their own ideas and without instructions. Before you start building a Lego MOC, you should make sure you have enough bricks and parts in advance. In this guide you will learn where to buy Lego parts for MOCs and how to create a plan for building your first MOC. We also go into how and where you can gather ideas for building a Lego MOC.
Lego® MOC: What is it?
Lego® MOCs (My Own Creation) are buildings made of Lego bricks that have been designed and built by fans, for example. Lego MOCs became famous through human-sized replicas of castles and palaces that were exhibited at Lego fan and model building fairs. Building MOCs is popular among AFOLs (Adult Fans of Lego).
On the one hand, it is possible to buy MOC instructions on marketplaces such as Rebrickable and to rebuild the MOCs. On the other hand, it is possible to plan buildings in advance, visualise them with software such as BrickLink Studio and then build them yourself. No matter which option the builder chooses. In both cases, it is important to have enough Lego bricks. In our Lego brick reorder guide, we have summarised the most important things that should be considered when buying individual parts.
Lego® Mocs: How to start?
Want to build Lego® MOCs but don't know how to get started? Below we present a step-by-step guide to help you design and build your first Lego MOC. In most cases it is advisable to approach your first MOC in small steps.
Step 1: Create basic conditions
First of all, it is important to gain basic knowledge about Lego® MOCs and to learn building techniques. For this purpose, it is advisable to watch tutorials on building techniques, for example. Equally instructive and inspiring are so-called speed builds or time-lapse videos that show the construction of a MOC at increased speed. 
Visiting Lego or model building fairs is also interesting, but requires more time. In Lego forums there is the possibility to exchange ideas with other builders and ask for advice. 
Finally, it is also useful to get to know the marketplaces for Lego parts, so that you know how and where you can order Lego bricks in larger quantities. The most popular marketplaces include: 
In our Lego brick reorder guide we show you how to buy parts on BrickLink.
Step 2: Rebuild Lego® MOCs
After you have gained the first knowledge about Lego® MOCs, it is time to build your first MOC.
Often MOC building instructions are available for a fee, but there are also some instructions that can be downloaded for free. Platforms that are suitable for buying Lego MOC building instructions are:
Lego also offers the possibility to build MOCs with some sets. One example is the Architecture 21058 Great Pyramid of Giza. The Danish manufacturer of building blocks delivers this as a half pyramid. On the one hand, it is possible to buy a second model of the Great Pyramid of Giza and push it up against the existing pyramid. On the other hand, the first small MOC can be built with the second Pyramid of Giza. There are free building instructions for this on Rebrickable.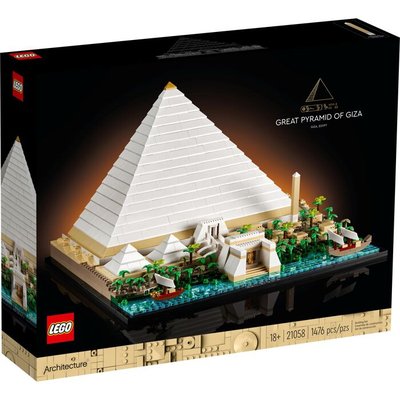 Step 3: The first own Lego® MOC
The supreme discipline is building your first MOC. If you don't know how to design your first MOC out of Lego bricks, you should get some inspiration beforehand. You can get ideas for Lego MOCs in different ways. For example, you can get inspiration from films or video games. You can also get inspiration for MOCs from everyday life or holidays. 
Once you have a basic idea, you can create a photo collage of your model before you start building. 
The free BrickLink Studio is suitable for designing the MOC. The BrickLink Studio is a programme with which MOCs can be virtually designed and built. In addition, already existing MOCs can be imported. When designing, you can use a variety of Lego parts. Afterwards, instructions are automatically generated if desired and the bricks can be purchased on the connected Lego marketplace BrickLink.
Best Lego® MOCs
In the following, we present MOCs of well-known Lego® themes . The MOCs are extensions of existing building sets or sets that have not yet been available in this form from Lego itself.
Lego® Harry Potter MOC
You think theHarry Potter 71043 Hogwarts Castle is too small and you want a replica that is even more detailed? MOC builder Playwell Bricks has designed a Hogwarts Castle with over 19,000 pieces. This makes the Harry Potter MOC 3 times the size of the original 71043 Hogwarts Castle.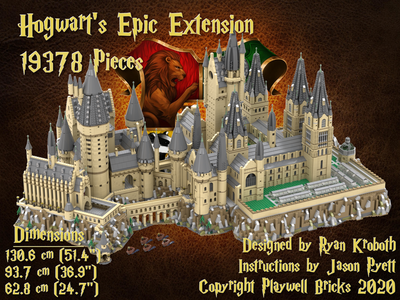 Lego® Star Wars MOC
The Lego® sets of the Star Wars film adaptations are especially popular with adult Lego and Stars Wars fans. Accordingly, there are also Lego MOCs for Star Wars fans.  There is a wide range of Lego Star Wars MOCs. One example is the Slave I of the MOC builder Bit. Bit has recreated the infamous Slave I of the film character Boba out of Lego bricks. The Slave I is one of the most iconic and popular space ships in the film trilogy. Lego itself also has models of the Slave I in its range. However, the MOC of the Slave I with 4,064 parts is many times larger and more detailed than the original Lego models.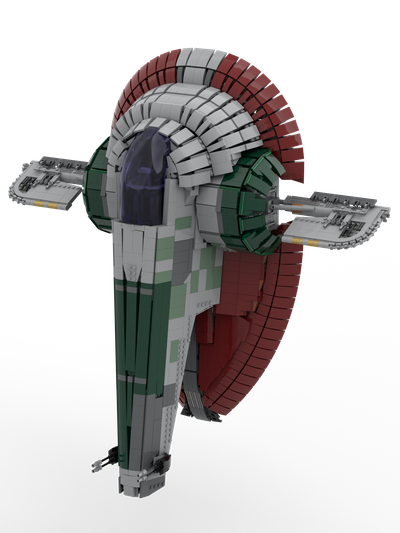 Lego® Technic MOC
Lego® Technic models in large format - this is what Lego Technic MOCs offer. The MOCs of the Lego Technic theme are detailed and fascinating at the same time. Many models have an electric motor and can be controlled remotely. The master builder legolaus has designed a Lego Technic MOC made of 5,839 parts. The Lego Technic MOC represents a heavy-duty transporter with 7 electric motors. The heavy-duty transporter has a length of 4.2 metres.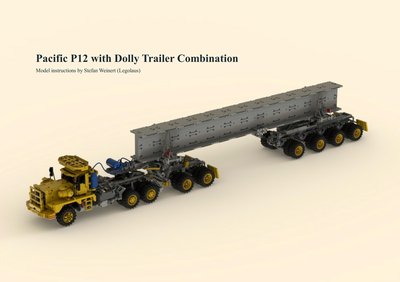 Buy Lego® MOCs
Buying a complete Lego® MOC is usually expensive. But the website buildamoc.com, for example, offers Lego MOCs for sale. As a highlight, the MOCs were designed by Lego fans. The scope of delivery includes the corresponding Lego bricks and building instructions. The MOCs are individually packed and are therefore excluded from exchange.
Buy Lego® WW2 MOC
If you're looking for a kit based on vehicle models from the Second World War, it doesn't necessarily have to be a MOC made of Lego bricks. There are many Lego alternatives that specialise in themes that the Danish brick manufacturer itself does not have in its range.
The Polish Lego competitor COBI specialises in the sale of historical vehicle models made of chock bricks. In addition to the COBI 2530 tank, the Polish manufacturer also has the COBI 4830 warship in its range. In our guide to Lego alternatives , you will find other manufacturers with a diverse selection of sets in addition to COBI.
Lego® MOCs on eBay
If you want to buy a finished Lego MOC, it is worth looking at online marketplaces such as eBay. Occasionally, Lego fans offer their MOCs for sale. However, it should be noted that Lego fans often act as private sellers and therefore there is no right of exchange or return.
Lego® MOC Ideas
As already mentioned, there are different ways to develop ideas for MOCs. Besides YouTube videos or Lego® forums, Discord and Telegram groups also offer a space for exchange with other Lego builders.
Ideas for Lego MOCs can also be developed through existing building instructions. On platforms such as Rebrickable or MocsMarket, there are free and paid building instructions for MOCs. However, the pictures of the MOCs are always available free of charge and can serve as inspiration for your own builds. 
Building instructions for all available Lego sets can be downloaded free of charge from the Lego online customer service website. This is helpful if you want to adopt building techniques from existing sets for your Lego MOC or if you are looking for specific bricks.
Visualise Lego® MOC ideas
With BrickLink Studio you have the free possibility to visualise your Lego® MOC ideas before you buy the bricks and start building. When you are satisfied with your building plan, you can export the building instructions and order the Lego bricks by connecting to the Lego marketplace BrickLink. You can also import MOCs and customise them to your liking.
Lego® MOC build made easy
As you can see, designing and building Lego® MOCs is not very complicated. In the beginning, it is important to learn basic building techniques and to exchange ideas with like-minded people. Before you build your first MOC, it is advisable to copy MOCs from existing building instructions. On platforms such as Rebrickable, you can find free as well as paid building instructions.
With the BrickLink Studio, you can build your construction projects virtually and then order the necessary bricks.
It is also possible to buy MOC building instructions with the corresponding bricks on buildamoc.com. 
You want to start building Lego sets before you build your first MOC? In the Brickfact price comparison you can choose from a variety of suppliers and buy Lego sets at bargain prices. The Brickfact App informs you via push notification as soon as new Lego deals are available. The Brickfact app is free and available for iOS and Android.