There is nothing more annoying than discovering that bricks are missing when building a Lego® set. Such a case is rare, but cannot be completely ruled out. With used Lego sets, the probability of missing bricks is much higher than with brand-new sets. Lego parts are also needed in other situations. For example, there are many ways to expand Lego buildings and adapt them to personal wishes; the usual number of bricks is not sufficient in this case. 
Building a MOC (My Own Creation) also requires many different Lego bricks. MOCs are your own creations made of Lego bricks. 
Missing Lego bricks are also a problem when selling, so they reduce the possible sales price and the probability of a quick sale. 
As you can see, there are numerous cases in which Lego spare parts are needed. In this guide, we have summarised the most important information about Lego spare parts for you.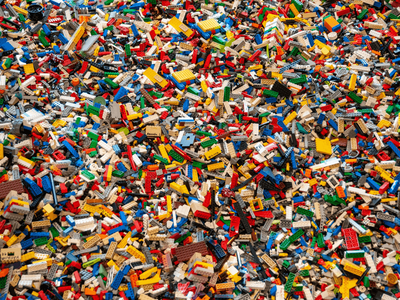 Order Lego® spare parts
As already mentioned, the probability of missing parts in new Lego® sets is low. It is common for the Danish manufacturer to include spare parts that could get lost due to their size. These are mainly small parts. In the event that bricks are missing despite this, there are ways of procuring them later.
Replace Lego® spare parts for new sets
If you notice that bricks are missing from a new Lego® set, you can request them directly from Lego. In this case, there are several ways to contact Lego:
Mail 
Chat function 
Letter 
Phone 
If only a few bricks are missing, the Lego online customer service is the best choice. On the online customer service page, you will be guided through the ordering process with step-by-step instructions. Ordering missing bricks is free of charge and uncomplicated, as shown in the following example.
Step 1 → Specify brick or set number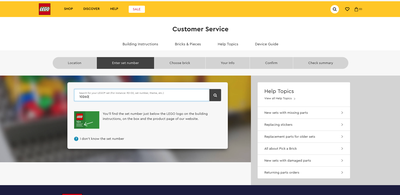 In the first step, you can search for the missing Lego® parts. Alternatively, you can enter the set number. In this case, bricks that are available in the corresponding set are listed.
Step 2 → Select missing Lego® parts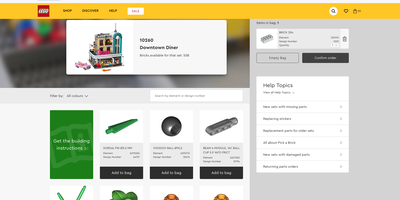 In the second step, you select the missing parts that are missing from your Lego® set.
Step 3 → Confirm details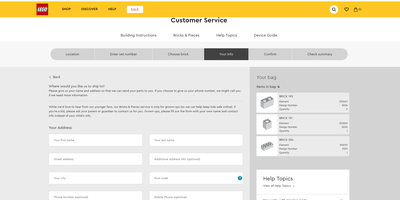 Finally, you will be asked to confirm the information and enter your address details. 
If a large quantity of Lego® parts is missing, it is advisable to contact the telephone customer support. Make a note in advance of which bricks are missing and have the proof of purchase ready.
Order Lego® spare parts: Third-party supplier
Missing Lego® parts from sets that were purchased on Amazon, for example, can also be reordered from Lego free of charge. It does not matter whether Lego sets were bought in online shops or in retail shops. Lego supplies spare parts for all new Lego sets. However, only the parts that are really missing should be reordered.
Order Lego® spare parts: Used sets
You own older Lego® sets and want to build them up or give them away - but you are missing parts that are needed for the assembly? It is also possible to order spare parts for used Lego sets. However, in this case it is not possible to get the parts from Lego itself, because the parts of old Lego sets are taken out of the assortment. Furthermore, it is mainly a question of bricks that have been lost during the building of sets. In such a case, the responsibility does not lie with Lego. However, there are some online marketplaces where spare parts for used Lego sets are offered.
In the following paragraphs, we will introduce you to the most important online marketplaces for Lego parts.
BrickLink
BrickLink is the largest marketplace for Lego® parts and has been part of the Danish Lego group since the end of 2019. On the online marketplace, various dealers offer Lego individual parts or complete sets for sale. Depending on what is needed, you can search for individual bricks or set numbers. It is also possible to search for minifigures.
When you have found the right Lego part, you can call it up individually and choose from a list of dealers. When buying different parts, it is advisable to buy them from one dealer to save on shipping costs. The wish list helps you to do this. To do this, add all the bricks you need to the wish list. BrickLink will then find the seller that best matches your order.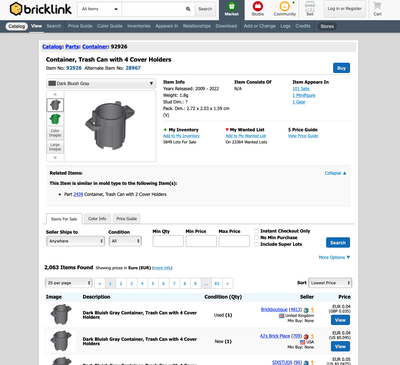 For first-time users, the BrickLink marketplace can seem confusing at first, but it does have the largest range of Lego parts available
BrickScout
The online marketplace BrickScout is the German competitor of the largest Lego® marketplace BrickLink. In contrast to BrickLink, the BrickScout website is also available in German, among other languages. The structure is comparable to that of the competitor BrickLink. The range of functions includes searching for sets, minifigures, individual parts and accessories. It is possible to compare between different dealers. The price level is higher than with BrickLink.
Brick Owl
Brick Owl is the third well-known online marketplace for Lego® parts. The functions are comparable to those of the previously mentioned online marketplaces. Due to a smaller offer, the price level is similar to BrickScout.
Online marketplaces
BrickLink ,BrickScout and Brick Owl are the largest online marketplaces where Lego® parts or sets can be bought. 
For beginners, the marketplace BrickScout is well suited. In our opinion, the interface is the clearest.
Experienced Lego fans will find the largest range of Lego parts at BrickLink. It is also the cheapest of the three buying platforms.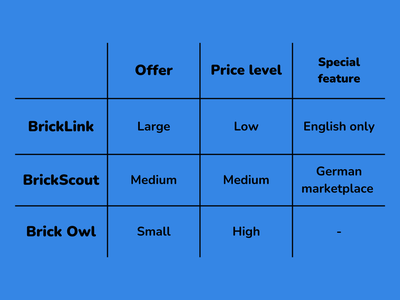 Lego® spare parts: Checklist
You want to buy Lego® spare parts to complete used sets or to build your own creations? In the following checklist, we have summarised the most important points that should be considered when buying individual parts.
Commercial suppliers
When buying on online marketplaces such as BrickLink, you should pay attention to the status of the seller. In contrast to private sellers, commercial sellers offer the legal warranty and a right of withdrawal of at least 14 days after purchase. In addition, the trustworthiness of commercial sellers is high and the risk of fraud is low.
Buy new or used spare parts
The different Lego® parts are often available in used and new versions. Light signs of use include minimal wear, fading or scratches. Lego items with heavier signs of use are rare and are usually not offered for sale. If the individual parts are intended for children, used individual parts should be washed before use. This is possible, for example, with 40 degree warm water and detergent. For this purpose, the stones are soaked and cleaned with a brush. Then rinse with clean water. 
The price difference depends on the type of stone. For standard bricks like the 2 x 4 brick, the price difference is minimal. It is different with Lego pieces that have special colours or are only included in a few Lego sets. Here, the price difference can be 20 to 30%.
Shipping costs
To save on shipping costs, it is worth paying attention to the minimum order value. The minimum order value varies from supplier to supplier. Sometimes it is worth ordering several Lego® parts to reach the minimum order value and save on shipping costs.
Origin
It is advisable to choose dealers from EU countries. This has two advantages: On the one hand, you avoid possible customs duties and on the other hand, the shipping time is usually shorter than, for example, with an import from the USA.
Order all spare parts you need
Before you order Lego® parts, you should make a list of all the parts you need. If you want to order several parts at the same time, it is advisable to look for larger shops on the online marketplaces that have a large assortment. This way, the parts arrive at the same time and the shipping costs are cheaper than ordering all the parts individually.
Lego® MOC parts
MOCs (My Own Creation) made of Lego® bricks are popular with adult fans. These are structures that are built according to one's own ideas. Lego MOCs became famous through human-sized replicas of castles and palaces. Fan clubs often present their buildings at model building exhibitions.
Lego® MOC building instructions
The online marketplace BrickLink is popular with MOC farmers. The BrickLink website has a MOCS section where MOCs and their building instructions can be viewed. Most of the time, however, the building instructions are not free of charge.
In addition, there are many other providers where MOC instructions are available for download:
Alternatively, dealers also offer MOC instructions for sale on the eBay sales platform.
BrickLink Studio
The Lego® Online Marketplace offers a free programme for designing MOCs with the BrickLink Studio. In the BrickLink Studio it is possible to import already existing MOCs or to design new ones. A large selection of bricks can be used for this. Building instructions can be generated automatically from the designs. The connection to the BrickLink marketplace makes it easy to order the required Lego parts.
Ordering Lego® parts made easy
There are many possibilities to order Lego® spare parts. No matter whether it is a new or used Lego set.
For new Lego sets, it is advisable to choose the Online customer service and fill out the order form. In the area of used Lego sets, the selection of online marketplaces is large. Depending on individual needs, there is the right marketplace for every Lego builder. 
MOC builders design their own MOCS with the BrickLink Studio or import existing designs.
Before ordering Lego parts, it is advisable to consider which parts are needed. To do this, it is advisable to make a list in advance.
Are you interested in new Lego sets? The Brickfact app notifies you as soon as there are Lego deals at the best prices. The Brickfact app is free and available for iOS and Android.