Most Lego® investors and collectors are probably familiar with the sale of new, complete Lego sets. But did you know that the sale of Lego parts can also be a lucrative business? 
On marketplaces such as BrickLink, commercial traders offer new and used Lego sets and parts for sale. The target group of buyers is large. Besides builders looking for spare parts for Lego sets, individual parts platforms are also popular in the AFOL community (Adult Fans of Lego). Large quantities of identical bricks are needed, for example, to build MOCs (My Own Creation). MOCs are self-built structures made of Lego bricks.
The trade in minifigures is just as interesting. In Lego sets with exclusive minifigures such as Star Wars 75324 Dark Trooper Attack or Harry Potter 76398 Hogwarts Hospital Wing, the figures included make up a considerable value of the RRP. When selling Lego parts, the POV (Part out Value) is also interesting. The POV indicates the value of all the individual parts contained in the Lego set. If the POV is high in relation to the RRP, the sale of the individual parts represents a lucrative opportunity.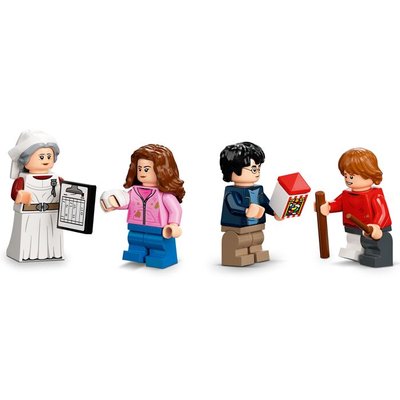 In addition to the trade in new Lego parts, the second-hand market is also large. Traders buy up Lego collections and then resell the parts on platforms like BrickLink.
As you can see, the market for Lego parts is diverse. In the following sections, we will show you how to sell parts on BrickLink in a step-by-step guide.
Sell on BrickLink: Better than on eBay?
BrickLink is the largest marketplace for new and used Lego® parts. In 2019, the Danish Lego Group acquired BrickLink from the Belgian holding company NXMH. 
The marketplace BrickLink offers the largest range of used and new Lego parts worldwide. The platforms BrickScout and Brick Owl can be mentioned as direct competitors. The functioning and structure of both platforms is comparable to that of BrickLink. However, the number of visitors is considerably lower. 
BrickLink had an average monthly search volume of 933,477 visits worldwide in the past 2 years. It is followed by BrickOwl with 178,125 and BrickSout with 11,171 hits (as of July 2022). It should be noted here that the BrickScout marketplace is primarily intended for German-speaking countries. 
Search volume is an important factor in relation to the sale of Lego. If a marketplace such as BrickLink is visited frequently, the probability of a sale is increased. However, it should also be taken into account that competition is highest on BrickLink.
Bricklink Alternative: eBay?
Unlike BrickLink, eBay does not exclusively sell Lego®. Dealers and private sellers offer everything there is.
The selling fees on eBay depend on the category. On Lego, the sales fee is 11% of the sales price. The fees on BrickLink are based on the sales volume per sale. For sales up to $500 the sales fee is 3% and over $500 5%. There is no monthly turnover limit, the percentage fee refers exclusively to the turnover per sale. Depending on the payment method of the buyer, 2.49% and 35 cents are added for PayPal transactions.
Accordingly, the selling fee on eBay is at least twice as high as on BrickLink. This makes the marketplace interesting for Lego sellers. In contrast to eBay, the volume of visitors is lower, but more concentrated. Visitors who visit BrickLink are basically interested in Lego. This is not the case with eBay.
Open a Bricklink Shop: Instructions
You want to start selling Lego® on BrickLink and benefit from the low sales fees? Below we have prepared a step-by-step guide for you. The guide covers everything that is important: from setting up your seller account to placing your first Lego® brick.
Before you sell on BrickLink, you should check the requirements. These include taxes and the need for a business.
Step 1: Create a BrickLink account
Before you can start selling Lego® on BrickLink, it is necessary to create an account. Even as a commercial seller, you must first create a normal buyer account.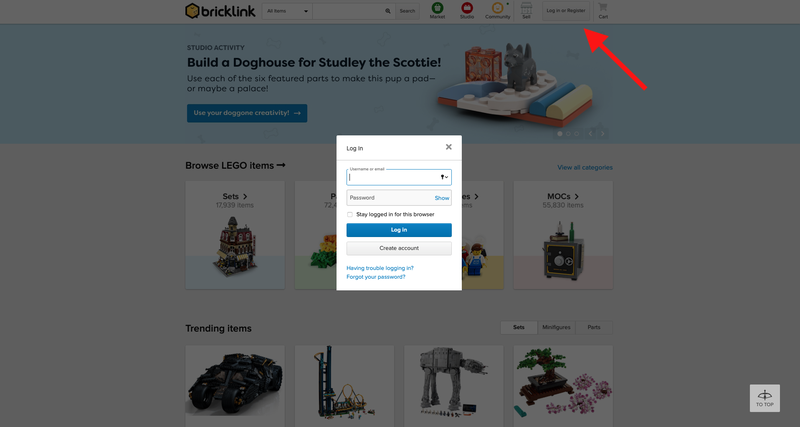 To do this, select the tab "Log in or Register" on the BrickLink start page and then go to "Create Account".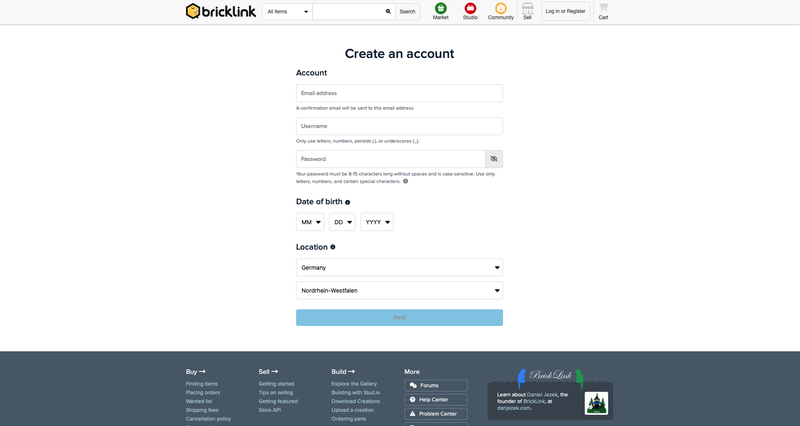 You will then be asked to provide personal information. You will also be asked to choose a username.
Step 2: Create a seller account
It is not possible to sell on BrickLink with a buyer-only account. Once you are logged in with your previously created account, go to the "Sell" field and select "Upgrade to Seller". It is only possible to create a seller account if you already have at least 1 positive rating. You will receive this when you buy something from another BrickLink seller.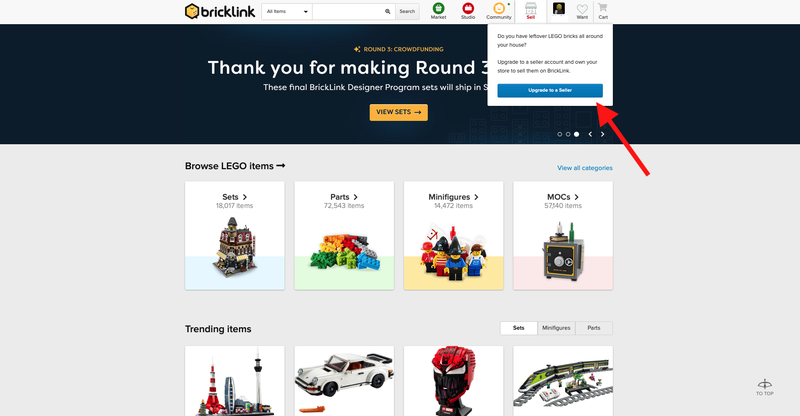 You will then be directed to a page where you will be asked for information about yourself and your company/business.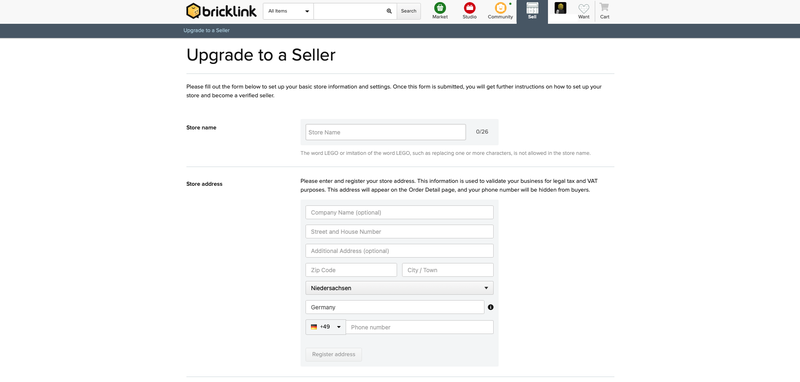 First, choose a name for your BrickLink Shop. The Lego® brand must not be part of your name. You will then be asked for your company name and personal details.

It is necessary to link your seller account to at least one payment method so that buyers can make payments. The most popular payment method on BrickLink is PayPal. It is also possible to connect the payment provider Stripe to BrickLink. In both cases you need an established and verified account. For example, if you want to offer IBAN payments, you need at least 10 positive reviews or 3 months of sales experience.

In the next step, select your shop currency. If you live in the EU, it is recommended that you select the euro. You can then accept other currencies.

After you have selected your currencies, you specify the countries to which you would like to ship. Please note the delivery threshold of the European VAT law. Up to €10,000 turnover/year, the turnover tax is paid in Germany as usual. However, if the turnover exceeds this threshold, it is necessary to pay the tax in the respective countries. 
You will then be asked whether BrickLink may use your product images for its own product image catalogue.

Finally, you must accept the terms and conditions. Before you can start selling Lego pieces, it is necessary to select a shipping method. For final verification, you will be asked to place e.g. a brick in advance.
Step 3: Sell Lego® on BrickLink
The time has come, the first Lego® item can be posted on BrickLink. Besides simple bricks, it is also possible to offer complete sets or minifigures on the marketplace. To create your first offer, select "Add Item" in the upper search bar.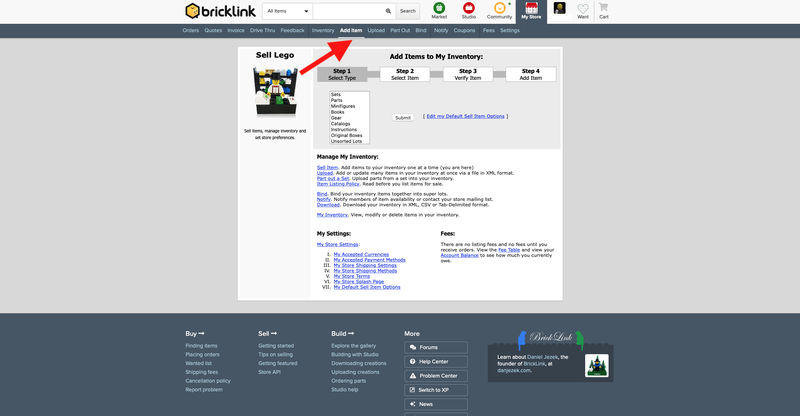 First we are asked which Lego item we want to sell. If we want to sell a minifigure, we select "Minifigures".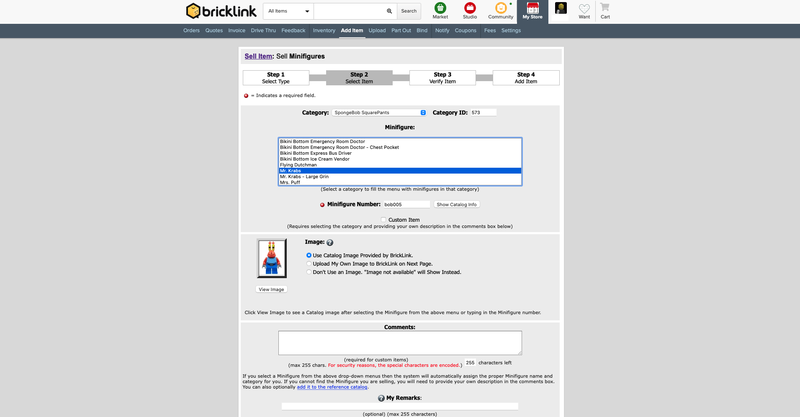 On the next page, you can search for the minifigure you want to sell using the categories. You can also enter the official number of the minifigure or the part. You will find this in the building instructions of the corresponding Lego set from which the part originates. You will then be asked for details of your sale, price and discount settings.
With this procedure it is possible to list your Lego items for sale.
Step 4: The first sale
Congratulations! You have made your first sale on BrickLink. To make sure your first customer is satisfied, you should not wait too long before shipping. When creating the offers it is possible to store a stock location for each individual part, so that after the sale there is no need for a long search. Proper storage is especially important if a large number of individual parts have already been placed. It is advisable to store individual parts in appropriate boxes. In our guide to storage boxes you will find boxes that are suitable for storing small parts.   
You must also remember to issue a proper invoice to the buyer.
Selling on BrickLink: Our conclusion
The Lego® marketplace BrickLink is a very good alternative to eBay, for example. The fees are about half as low, and the potential group of buyers is at least as large. Before you start selling Lego on BrickLink, you should register a business. 
With the help of the step-by-step instructions, you can successfully set up a seller account on BrickLink and advertise your first brick. 
You want to sell Lego parts from new sets? In the Brickfact price comparison you can choose from a variety of sellers and buy Lego sets at the best price. The Brickfact app notifies you as soon as a new Lego deal is available. The Brickfact app is free and available for both iOS and Android.