You want to equip your minifigures with weapons? Weapons are rare in the Lego® range and are only included in a few sets. The Danish brick manufacturer focuses mainly on family-friendly sets and themed worlds.
In the Star Wars theme, however, weapons are an integral part of the sets, but in limited quantities. However, you can buy weapons for your Lego minifigures from third-party suppliers, for example. In addition, some manufacturers who offer Lego alternatives have concentrated on military sets. It is also possible to buy individual Star Wars weapons on Lego marketplaces such as BrickLink. 
As you can see, there are many ways to buy Lego weapons. In this guide we show you where you can buy Lego weapons. We will also introduce you to suppliers who focus on weapons and military sets. Our selection consists exclusively of sets that are compatible with Lego. As a highlight, we show you how you can build your own weapons out of Lego bricks.
Lego® Weapons for minifigures
Building an army out of Lego® minifigures or supporting the police station are just two examples where Lego weapons are needed.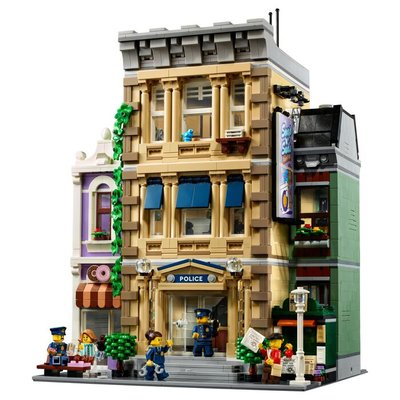 The Danish clamp brick manufacturer itself does not carry any individual weapons for purchase in its range. Other manufacturers have recognised this gap in the market and offer weapon sets for sale. When choosing a weapon set, you should make sure that the individual parts are compatible with those of Lego. We have summarised what else you should consider when buying Lego alternatives in a separate guide.
Below we present you with weapon sets that you can equip your minifigures with.
Upgrade for the Lego® police station
Want to upgrade your police station? The Feleph swat military set is compatible with Lego® and serves as an upgrade for your police station. The weapon set is suitable for small and large builders alike.
In addition to various weapons, the set includes waistcoats, protective helmets, handcuffs and protective shields. Police dogs and roadblocks are also part of the weapons set.
Fourteen different and detailed weapons are available with the BrickArms weaponpack.
Weapons for your own Lego® military
The Feleph military army pack is suitable for building an army from Lego® minifigures. The military weapons are compatible with Lego and transform the minifigures into soldiers. Other items are also included in this set. These include protective clothing in camouflage colours, helmets and sandbags.
Lego® Star Wars weapons
In the Star Wars theme, the light and dark sides of the Force fight against each other. The Star Wars theme world picks up the story of the space saga and recreates it in the form of Lego® sets. Weapons are an important part of the battles.
Lego does not offer weapon sets. However, if you want to expand your Star Wars army, one option is to buy Battle Packs. Star Wars Battle Packs are a cheap way to buy Star Wars weapons. However, the Battle Packs like the 75320 Snowtrooper Battle Pack contain minifigures as well as weapons.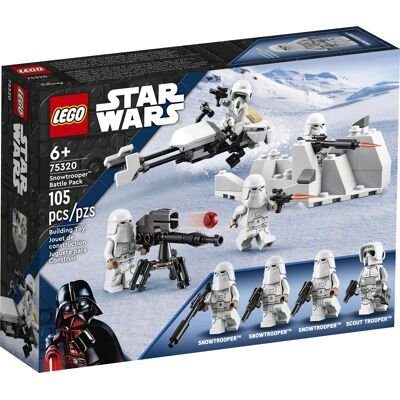 The 75280 501st Legion™ Clone Troopers is equally interesting. This set contains 6 minifigures with their weapons as well as an AT-RT walker and a BARC speeder.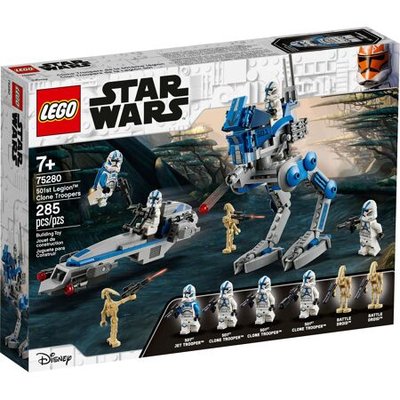 Buy Lego® Star Wars weapons on BrickLink
On the other hand, Star Wars weapons and minifigures can be bought on Lego® marketplaces like BrickLink. We have summarised what you should consider when buying in guide reordering Lego bricks.
The BrickLink marketplace has, among other things, an overview page for Lego weapons. If you want to buy different weapons, it is advisable to choose sellers who have a large assortment. This has the advantage that you save on shipping costs.
For example, you can buy the standard weapons Blaster Short and Blaster Long, which are popular with Lego Star fans, at BrickLink. Both weapons cost 25 - 30 cents each when new.
Cheap Star Wars Weapons alternatives
As an alternative to buying individual weapons on BrickLink, third-party manufacturers offer Lego® compatible Star Wars weapon sets. These contain not only weapons but also other equipment. The Star Wars weapons set from Bybo consists of 83 individual parts. The set includes weapons, helmets and lightsabres.
With the trooper blaster DC-15 weapon set , the manufacturer BrickArms offers a larger number of the popular blaster in one set.
Lego® Military weapons & sets
As already mentioned, Lego® does not offer any military sets. This is due to the fact that the Danish company mainly targets families with children. Even though Lego is gaining more and more adults as customers, they still do not offer any corresponding sets. 
Some competitors have recognised this gap in the market and offer weapons and military sets compatible with Lego bricks.
Military sets from Cobi and BlueBrixx
The Polish Lego® competitor Cobi specialises in military sets. The range includes a variety of historical war vehicles such as the 2530 Cobi tank. This kit is compatible with Lego and includes 3 figures and 1 dog.
Lego competitor BlueBrixx also has military sets in its range. The BlueBrixx BlueBrixx 06051 tank is based on the Marder of the German army and is rich in detail.
In addition to tanks, Cobi also offers warships. The 4830 warship from Cobi is modelled on the British battle cruiser Hood.
Military sets for children
With the Land forces building bricks set, the manufacturer Sluban offers 5 military vehicles in one set. Matching minifigures and military equipment are included in the set and are compatible with Lego®.
If you are looking for minifigures with military equipment, then the ATING military figure set is a good choice. This set contains 12 soldiers and matching weapons. The weapons are also suitable for Lego minifigures.
Build your own Lego® weapons
Did you know that Lego® bricks can be used to build miniature weapons to set up and play with? Toy weapons in particular are popular with children and young people. In contrast to ready-made toy weapons, building your own Lego weapons encourages creativity and is fun. Lego itself does not provide instructions for building weapons. However, other suppliers offer instructions for building Lego weapons.
Lego® weapons building instructions
You can find building instructions and inspiration for Lego® weapons on various fan sites or social networks:
Building instructions for Lego weapons are usually subject to a charge. Lego Technic parts are also often used for building. Some of these models are even functional and suitable for playing with friends.
Conclusion
No matter for what purpose Lego® weapons are needed. There is a wide range of possibilities, even though Lego itself does not offer weapons and military sets.
If you want to equip your minifigures with weapons, it is advisable to turn to third-party suppliers. Lego competitors like BlueBrixx or Cobi offer detailed military sets. Matching weapons for minifigures can also be bought cheaply.
A highlight is the possibility to build your own Lego weapons. There are several providers and social networks that offer building instructions and inspiration. 
If you want to expand your Star Wars army, we recommend buying Battle Packs. It is also possible to buy individual weapons and equipment on BrickLink. Third-party suppliers also offer Star Wars weapons.
Want to buy Star Wars Battle Packs at the best price? The Brickfact app will notify you via push notifications as soon as new Lego deals are available. The Brickfact app is free and available for iOS and Android.