For all Lego® collectors, fans, parents or even for investors, a good price is one of the most important factors when buying Lego.
Of course, it's not always easy to keep track of all the offers and options, so we'd like to give you a few important points to help you get the most out of your purchase!
The Lego® VIP Programme - A must for every Lego Fan!
Points are worth their weight in gold - that's how the Lego® VIP programme can be summarised. Registration is free, simple and completed within a few minutes.    
Once set up, you collect valuable VIP points with every purchase in the Lego online shop, in official Lego offline stores and at customer service, which you can redeem for a variety of rewards and discounts. For every €1 spent, you'll earn 7.5 loyalty points, which equates to a 5% discount on the total price! The collected points are credited to your digital points account..
Make sure you are logged in to the Lego Store when you make your purchase, otherwise the points will not be credited. Occasionally, there are special days at Lego where you can collect 2x points and thus receive a discount of 10% on the purchase value - subscribe to the official Lego newsletter to always be up to date! 
Exclusive VIP sets
The collected points can be redeemed for exclusive VIP sets, for example, which often have a particularly good resale price due to their short availability. An example is the 40290 60th Anniversary Lego Brick Set, which was available in June 2020 for 2,250 points in the VIP member area. According to Brickfact, this VIP set has a current market value of €26.01 (as of 23.04.2022) and is also sold on eBay at these prices or more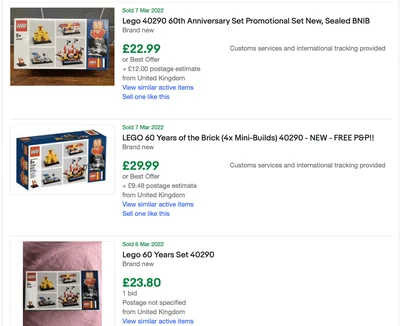 Further advantages for VIP members
Earlier access to sets
VIP points can be redeemed for tickets to Legoland/Legohouse 
Points can be converted into vouchers for the next purchase
Get free Lego®: GWPs and free supplements
In addition to VIP points, Lego offers GWPs - Gift with Purchase - at regular intervals. For example, during the 2021 Christmas season, the Lego® Seasonal 40484 Christmas Santa's Front Yard Set was added for free with a purchase value of €170 or more.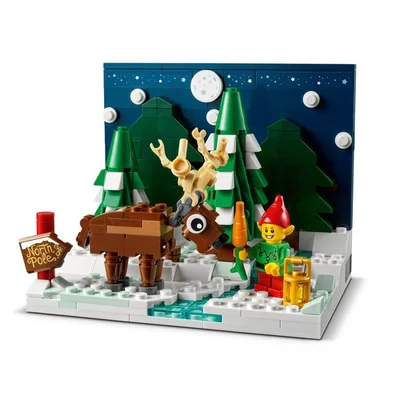 If you're interested in Star Wars Sets, mark the 4th of May in your calendar, as Lego often has interesting offers and exclusive GWPs on this day!
Get Cashback on Lego®
Collect cashback from Lego? Cashback platforms make it possible, they act as an intermediary between you and the seller and receive a commission. Part of this commission is passed on to you when you successfully complete your purchase. To do this, first register with the cashback platform of your choice, search for any shop (e.g. Lego Online Store) and follow the redirection. It can take a few weeks until the collected cashback is ready to be paid out.
Cashback platforms
Payback 
Shoop
iGraal
Getmore
Exclusivity pays off! - Lego® D2C Sets
So-called D2C Sets (Direct to Customer) are particularly interesting for Lego investors. These sets are sold exclusively through Lego itself for about the first 3 months after release. This can mean that they are difficult to get at a discount in the beginning. After the three months, however, they are often available from exclusive partners (Amazon, Smyth Toys). With a little patience and luck, D2C sets can be bought at the partners with discounts later on. However, this is not always the case; occasionally Lego markets exclusively through itself and only uses its own sales channels, so these sets cannot be bought below RRP. 
These exclusive sets include a large part of the BrickHeadz Series or the 10255 Assembly Square of the popular Creator Expert Series.  
Exclusive Lego sets can be found here:Exclusive Lego Sets
Ways to buy D2C sets cheaper
Cashback 
Lego® Vip Programme
GWPs
Brickfact - The best offers directly on your smartphone
To simplify your search for deals, we have developed the Brickfact App. The app is a tracker for all Lego® deals and notifies you immediately if you wish! This way, you won't have to worry about good deals being out of stock before you've discovered them. The app also has an extensive collection tracker built in which allows you to manage your whole collection of Lego sets.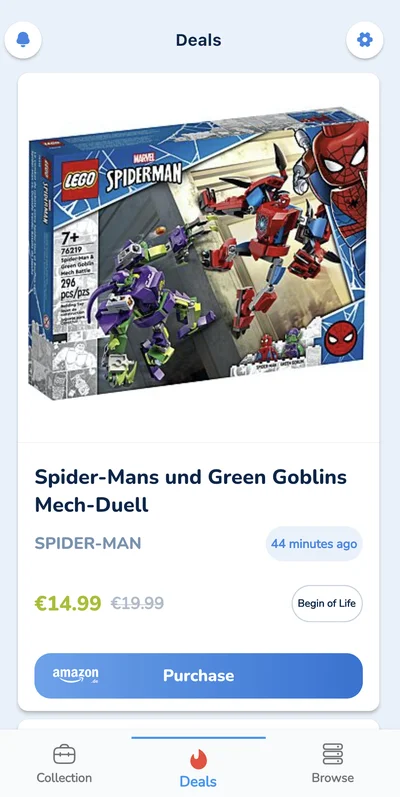 Brickfact is available as an iOS and Android app: 


Click here to download:
In addition, Brickfact app and the website offer you the possibility to compare prices of thousands of Lego sets. Another feature is the display of prices over time for thousands of sets. This is especially interesting for finding attractive price ranges that save you money. 
No matter which set you have in mind as your next purchase, with Brickfact you always have an overview and are guaranteed to get the lowest price.
When is an offer good?
Not every offer is a good offer. For this, the discount in relation to the theme world should definitely be taken into consideration. Past years have shown that this varies.
As you learned earlier, there are rarely discounts on D2C sets, for example, and so a purchase slightly below RRP is worth the purchase. On the contrary, this is not the case for sets of the Lego® Architecture series, where a high discount in the amount of 25%-40% is common.
When it is worth buying a set can be seen in the following table.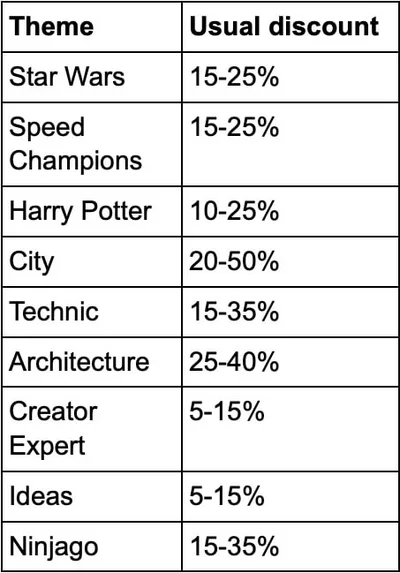 A good offer is in the upper range of the percentage or at best above. In cases where the usual discount is small, you can still reduce the purchase price with Lego® VIP points, GWPs or cashback. You should note that the table is only a rough guide and the values are not set in stone. There are sets for which a purchase is worthwhile with a significantly lower discount; set analyses should always be taken into consideration.
Find good Lego® deals
Good discount promotions usually start around Black Friday and Black Week, which is when the best prices are often achieved, as you can see on Brickfact. 
In summer, on the other hand, things look rather lean for us Lego® investors. On the one hand, this is due to the fact that many shop employees are on holiday. On the other hand, there is not much demand for indoor activities and thus also less interest in the popular bricks. 
Amazon Prime Days in the summer should not be neglected, however, as they are often an exception.
Let's go!
The Lego® Universe offers a variety of ways to get good discounts. Whether VIP points, GWPs, cashback or normal discount campaigns. There is always a way to get cheap Lego sets for your investment portfolio or your shop. With Brickfact you always have an overview and never miss a good deal again thanks to the optional notification function!