Investing in tangible assets has long had its raison to exist and is still very popular today. The roots of tangible assets go back deep into history; precious metals such as gold have been traded for thousands of years.
Investors are always on the lookout for new investment opportunities, and in addition to the classic forms of investment such as shares, real estate, gold or even art, the colourful terminal blocks from Denmark are causing more and more of a stir.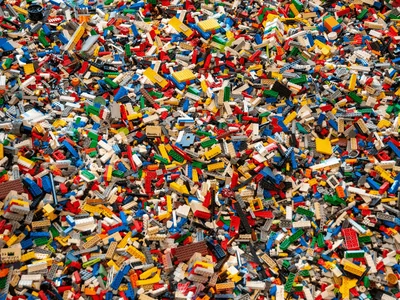 The returns achievable with Lego® sets can more than keep up with established forms of investment. In February 2009, the MSCI World Stock Index had reached its low point of the world financial crisis at around 710 points. If you had invested your money at that time, you would have enjoyed an average return of 11.10% p.a. today (as of April 2022). 
In April 2007, the first Lego® Creator Expert Modular Building, the 10182 Café Corner, was released at an RRP of €149.99. If you had invested in this set in 2007, you would have had an annual return of 23.10% up to the present day! Today, the Lego set sells for up to €3,500. This example is not an isolated case, as you will see later on.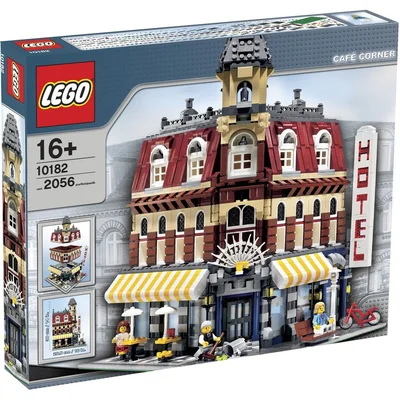 Lego can also more than prove itself in comparison to gold. The annual return of the popular precious metal was only approx. 6.5% p.a. in the period from 1970 to May 2020.
Who buys Lego® sets?
Lego's target group does not only include children. This has become clear at the latest since the Lego Star Wars Ultimate Collector Series or the modulars of the Creator Expert series. These themed worlds are aimed specifically at adult fans of the danish bricks.
Target group: AFOL
The AFOL community (Adult Fans of Lego®) accounts for a significant share of the company's turnover. Already every tenth euro can be attributed to this target group. In 2021, the Creator Expert series was in third place among Lego's top-selling theme series. In the previous year, the theme series was not even listed among the first 5 places. This example illustrates the growing importance of the adult target group for Lego. 
The target group of adult Lego fans differs from other buyer groups:
High-income 
Many collectors 
Prefer detailed and large sets 
Often fans for decades 
Lego itself continues to meet the demands of AFOLs. For example, a survey conducted by the company in 2006 among the AFOL community showed that adult fans wanted a detailed city made of Lego bricks that they could build themselves. As a result, Lego released the Creator Expert Modular series just one year later. 
Other themed ranges are also popular with adult fans. The Lego Ideas series has the special feature that fans can submit their own set designs. After submitting, the community votes and with a bit of luck, the idea is implemented by Lego (e.g. Lego® Ideas 21318 Tree House). 
Collection potential 
The example of the Creator Expert Modular Buildings shows that the "collecting factor" is very important in the AFOL community. Those who want to complete their miniature city and have not been there from the beginning buy the missing sets later. This is particularly interesting for Lego® investors, because AFOLs like to spend a few euros more to complete their collection.
Other theme worlds such as the Architecture series also have such collecting potential. The Architecture theme world is particularly impressive because of its details. Well-known skylines and landmarks are published as Lego miniatures. 
Collectors who want to complete their New York skyline, for example, can't get past the United Nations Headquarters , which officially disappeared from the market at the end of 2015 and has almost tripled its market value today. 
What makes a Lego® set particularly valuable?
Whether a Lego set is worth investing in can be determined on the basis of several criteria. In advance, everyone should be aware that it only makes limited sense to arbitrarily buy any set as a potential investment object. The procedure is comparable to analysing a share. Here, too, different points are considered and then an assessment is made as to whether an investment could be worthwhile.
Theme World & Licence
Licensed theme worlds are particularly interesting for Lego® investors. Lego sets from the Harry Potter and Star Wars themed worlds are at the top of the list. Both themed worlds have a huge fan base consisting of people of all ages. 
Replicas of film sets are very interesting. The Hogwarts Castle from the Harry Potter films is regularly reissued by Lego and makes the hearts of fans and collectors beat faster. The Lego 4842 Hogwarts Castle was released in 2010 and went on sale at the end of July 2012. After only ½ year, it had already doubled in price. The original RRP was 129,99€, the market value climbed to almost 260€ during this period. In 2018, Lego released the latest edition of the castle. We have published about detailed Harry Potter investment analysis on this set.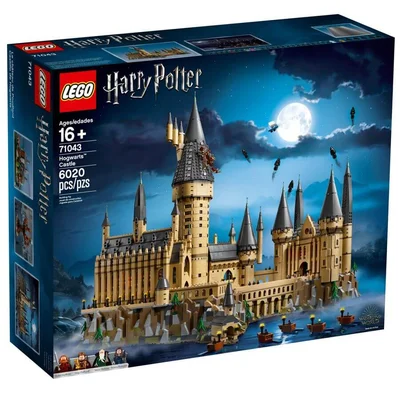 Besides licensed theme worlds, those that appeal to the AFOL community are interesting. The Lego Creator Expert theme world and the associated sub-theme world of Modular Buildings are way out in front. Also of interest are sets from the Architecture and Ideas themed series. The Modulars kits are characterised as follows: 
Large and detailed 
Fans can build their own miniature city 
Sets can be attached to each other → form a city block 
Sophisticated building techniques
The Modulars have so far invariably risen in value after they disappeared from the market. The first models are now being traded at prices of up to €2,000. Later models of the series also show a decent increase in value. The 10232 Palace Cinema currently has a market value of over 350€ and was originally available at an RRP of 139.99€.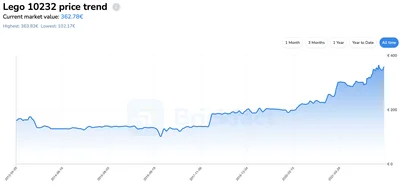 If you are interested in the price development of Lego sets, you can view thousands of increases in value on the Brickfact website and in the Brickfact app.
Step by Step Guide: View Lego® Price Trends in the Brickfact App
Download the Brickfact App for iOS or Android here. 
Enter Lego set number or set name 
Get info on sets & view price trends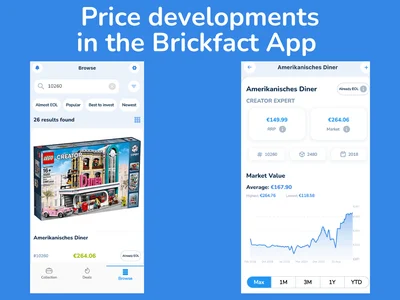 Minifigures
From an investment point of view, the minifigures included in Lego® sets are another important factor. With regard to the Modular Buildings, these are negligible, as they are usually not produced exclusively for the sets.
In contrast, minifigures from licensed sets are often really worth something! The Star Wars theme world serves as a prime example. 
The Imperial Death Trooper minifigure from the Lego Star Wars™ 75165 Imperial Trooper Battle Pack is on sale for over £20, against an original RRP for the set of £14.99.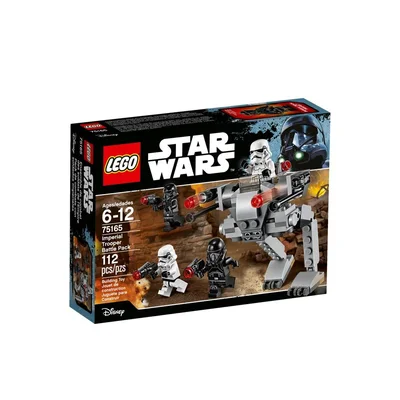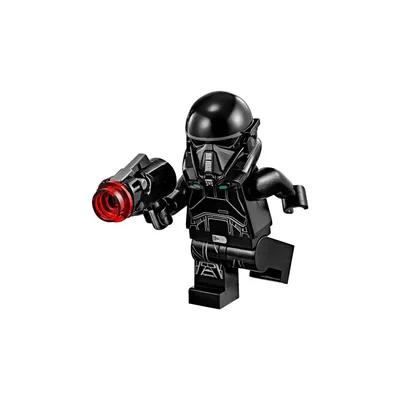 First editions
For Lego® investors, the first editions of a set series are particularly interesting. Collectors spend a lot of money on them. The first BrickHeadz model Lego 41490 Superman & Wonder Woman was available in the year of its release at an RRP of 39.99€. Today, the set is sold at prices of up to €900.
Lego® models from film scenes
Besides the Harry Potter and Star Wars themed series, there are even more Lego sets that represent models from film scenes. The target group for these sets includes not only Lego fans in general, but also fans of the respective films or series. This increases the investment potential immensely, as fans are more willing to spend because they associate the sets with emotions. 
The Lego® 71006 The Simpsons™ House had an RRP of €199.99 and has a market value of just under €400 today.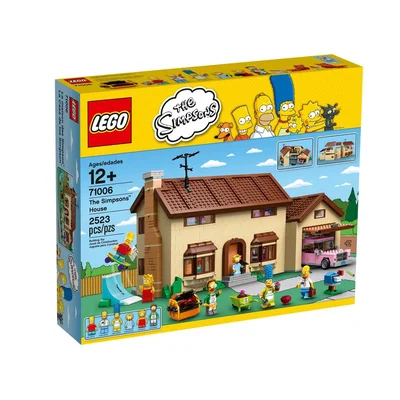 Current movie sets include Lego Ideas 21330 Kevin Alone at Home, the 123 Sesame Street or the Lego Creator Expert 10274 Ghostbusters™ ECTO-1 .
Collectibles
For the adult target group, Lego® railways or even ships are interesting. Lego trains always impress with their rapid price increases. This is proven, for example, by the Lego Creator Expert 10219 Maersk train with an original RRP of €119.99, which was released in 2011 and has a current market value of over €600. 
If you're interested in this range, check out the still available Lego® Harry Potter™ 75955 Hogwarts™ Express.
Lifetime
Last but not least, the so-called lifetime makes a Lego® set valuable. The shorter this is, the more likely it is that the price will rise quickly. On average, Lego sets go EOL (End of Life) after about 2 years. The term EOL describes the end of the life cycle of a Lego set. This means that the sets are no longer produced and sold by Lego and can only be bought by collectors or investors.
Which Lego® sets should I buy as an investment?
You can find suitable Lego® sets for your investments in the Brickfact App under "Best to invest".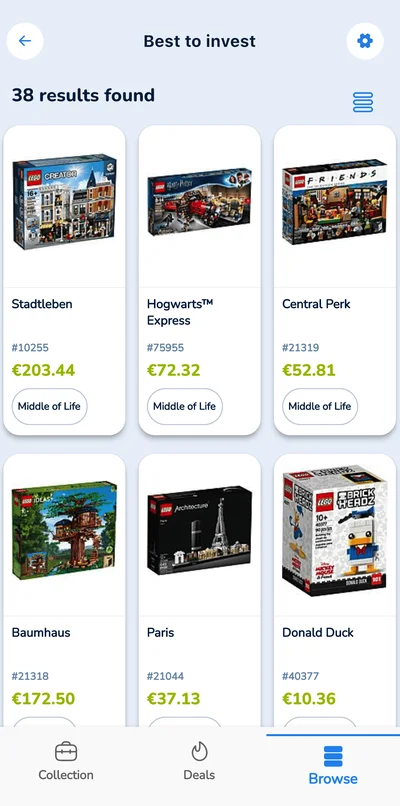 Brickfact Set Analyses
On the Brickfact website, we regularly publish Lego® set analyses in which we go into detail about all the points that are important for a Lego investment. Here you will find interesting sets that are still available on the market. 
The points mentioned in the previous section "What makes a set particularly valuable" and currently available sets (as of April 2022) are also interesting for Lego investments. You can use these points to judge whether a Lego set is suitable for an investment. Of course, not all criteria have to be fulfilled.
The profit is in the purchase
With Lego® investments, it is important to find the right time to buy, otherwise too much capital will be tied up in the long run. Of course, this is not always easy, but there are a few points of reference that should be taken into account. In addition to the right time to buy, the purchase price is also important for the subsequent return. The lower the purchase price, the quicker you can expect a good return.
EOL date
For us Lego® investors, the EOL date is one of the most important factors of all. In the various Lego® theme worlds, this can be forecast approximately on the basis of historical data.
EOL status in the Brickfact App
The Brickfact app shows you the estimated EOL time. If you wish you can also filter through Lego® End of Life list.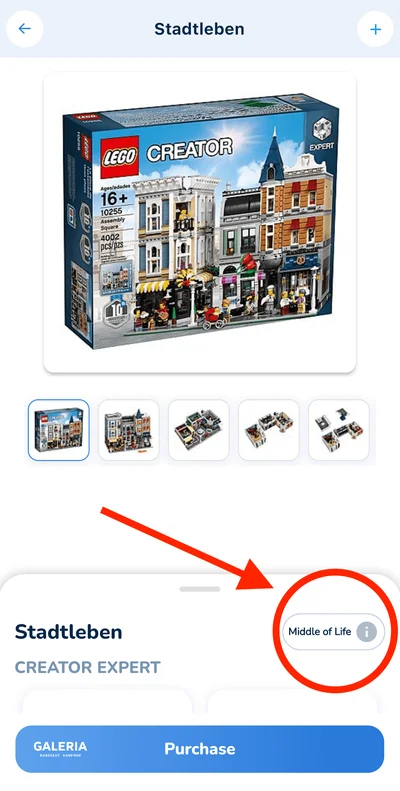 We distinguish between the following EOL statuses: 
Unknown 
Begin of Life 
Middle of Life 
Nearly end of life 
Already EOL
Lego® sets with the status "Middle of Life" or "Nearly end of life" are particularly suitable for investment.
Buy Lego® Sets at best prices
The art of being a Lego® investor is to make your purchases within the aforementioned time frames. You shouldn't wait too long, though, because retailers raise prices on popular sets several months before they officially go EOL. 
Find Lego® offers in the Brickfact Guide: This is how you save the most money! we show in detail how you can buy Lego sets cheap and lower your purchase price.
The Brickfact App notifies you in real time as soon as there are new Lego deals at best prices!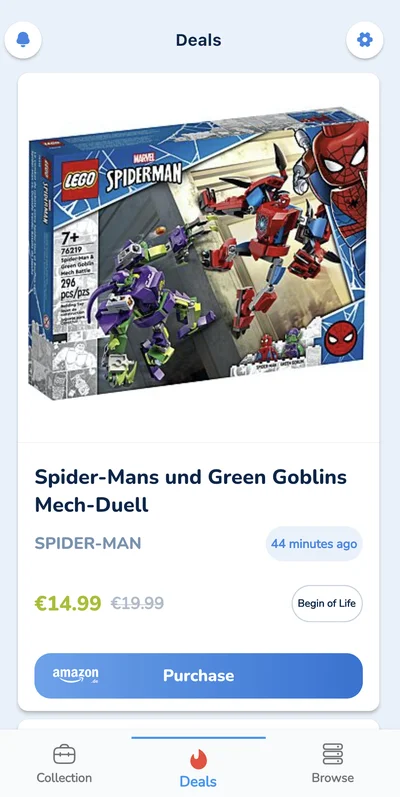 Store Lego® sets correctly for the best return on investment
Investments should always be looked after carefully. Just as gold is kept in safe deposit boxes, you should also pay attention to a few points with your Lego investments.
Sealed cartons
For collectors, the condition of the Lego boxes is extremely important, so they should be in perfect condition. A sealed box is one of the most important criteria of all, so the packaging of the set should definitely be new and unopened.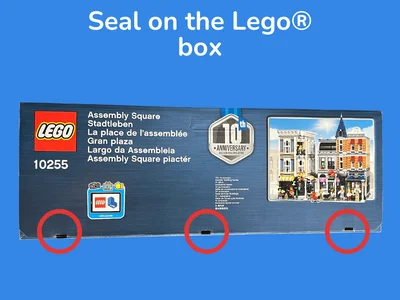 Stacking
Lego® boxes are best stored on heavy-duty shelves. Small sets, as long as they are light, can be stacked on top of each other and stored on the short side without any problems. 
Large, heavy Lego boxes should always be stored on the long side. It is advisable to turn the sets over every few months.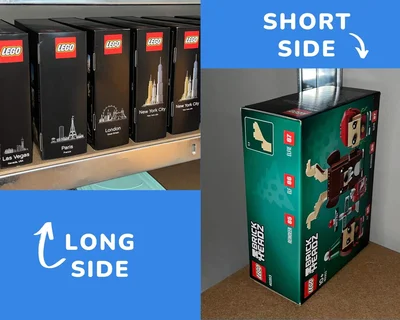 Humidity and temperature
Lego® sets are ideally stored at a room temperature between 14 and 20°C and a humidity of 55 to 60%. This prevents the formation of mould or mildew stains.
The perfect Lego® storage
For the best way to store your Lego sets and manage your collection, check out the Brickfact guide "10 tips to manage your Lego® collection".
When should I sell my Lego® sets?
Just like the time of purchase, the time of sale is also important for Lego investments. This is reached approx. 2-3 years after EOL. After this period, there are often only slight price increases.
The price development of the Lego 10251 Brick Bank shows this as an example. The set has been EOL since December 2018 and has stagnated in its increase for 1 year..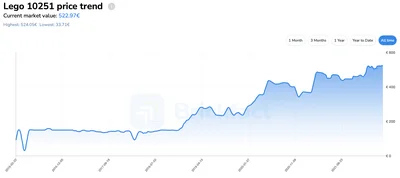 Conclusion
Lego® sets can clearly be described as a very profitable asset class. The returns can more than keep up with other forms of investment and even surpass them!  
The target group for sets that have increased in value is large and has been growing continuously for years. Attractive investments can be identified on the basis of meaningful characteristics and criteria. 
As with other asset classes, the entry price and timing play an important role. The perfect time to buy can be easily predicted. 
The Brickfact website as well as the Brickfact App help you to find attractive Lego investments. 
Why wait? Download the Brickfact App right here and start your first Lego investment today!