The Eiffel Tower is one of the most iconic landmarks in the world. It's also one of the most popular tourist attractions, with over 7 million people visiting it every year. And Lego® has done an excellent job of replicating it in brick form with the Lego Creator Expert 10307 Eiffel Tower Paris set.
Releasing on this year's Black Friday (25 November 2022), the Lego® Creator Expert 10307 Eiffel Tower Paris set now holds the record of being the tallest Lego set ever made at over 1.49 meters (4.8 feet). It is also now the second largest Lego set (in terms of pieces). With over 10,000 pieces, this set is an absolutely challenging build that will take most Lego fans several hours to complete.
There is no question that the Lego® 10307 Eiffel Tower is a beautiful set. It's an impressive build that captures the iconic structure perfectly. But is it worth buying? If you are still undecided, then read on.
Unboxing the Lego® Creator Expert 10307 Eiffel Tower Paris
It's always exciting to unbox a new Lego® set, and the 10307 Eiffel Tower Paris set was no exception. The box looks like the other standard "adult collector" sets, with a black background and a mandated 18+ age range.
The box is huge, measuring 15″ by 18″ by 22.5″ and weighing almost 13 kg. So If you're buying it from the Lego® store, make sure to have a trolley ready to cart it from the store to your car. Or if you are having it delivered to your doorstep, make sure to ask the delivery man to handle the box with care.
The Lego® Creator Expert 10307 Eiffel Tower Paris set is split up into 3 main sections. Its box contains 3 inner boxes, which when stacked up, signify the different sections. So it's easy to tell which section you're about to tackle.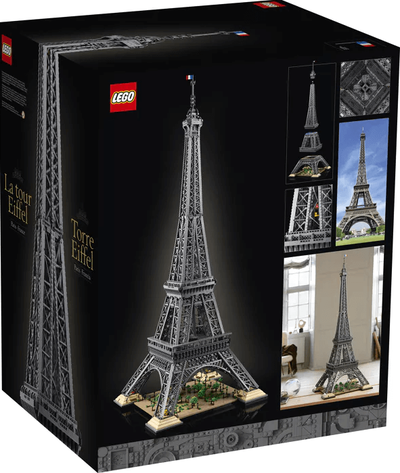 Each box also has its own building instruction, so if you want to cut down some building time, you can ask up to 2 of your friends to build the set with you. The pieces were all neatly packaged and easy to find, and the instructions were clear and easy to follow. Inside the building instructions as well are some fun facts about the history of the Eiffel Tower.
Building the Lego® Creator Expert 10307 Eiffel Tower Paris
With over 10,000 pieces, the experience of building the Lego® Creator Expert 10307 Eiffel Tower Paris is unlike any other. There are 74 numbered bags in the Lego Eiffel Tower set. And while there are plenty of repetitive sections, the level of detail in this set is incredible, and it's clear that a lot of time and effort went into creating it.
It will take more than 10 hours to complete the build, especially if you're doing it solo. But the build was easy to follow and satisfying when you're done. The process also is an enjoyable experience in itself. As you assemble the tower piece by piece, you'll get to relive some of the history and engineering behind this incredible structure.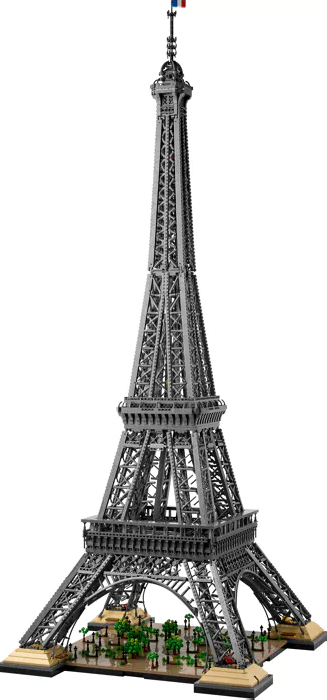 Should I buy the Lego® Creator Expert 10307 Eiffel Tower Paris?
If you're thinking about buying the 10307 Eiffel Tower, here are some things to consider:
Are you a fan of Lego®? If so, then you should buy this set! Building the Creator Expert 10307 Eiffel Tower Paris is challenging but rewarding and will provide hours of enjoyment. Plus, when you're finished, you'll have a beautiful piece to display in your home or office.
Are you planning on displaying the Eiffel Tower or playing with it? If you plan on displaying it, then it's worth the investment as it will look stunning on any shelf or table. But if you plan on playing with it, then keep in mind that this set is intended for ages 18+ due to its size and complexity and there might be other sets that are more enjoyable. Ultimately, it depends on what you want to do with the set.
Do you have plenty of room to store the set? This set is massive and will take up a lot of space when stored away. Make sure you have plenty of room before purchasing this set. So if you're short on storage, you might want to pass on this one.
Do you have enough budget? The Eiffel Tower set is currently retailing for $629.99. That's not cheap, but it is in line with other large Lego® sets. If you're a fan of the Lego Creator Expert series, this is a must-have set. But if you're just getting started with your collection, there are cheaper sets available that will still give you hours of enjoyment.
Who will be playing with the set? The Eiffel Tower is recommended for ages 18 and up due to its small parts and intricate details. If you intend to give this set to younger children at home, they might be better off with another Lego® set that's more suitable for their age group.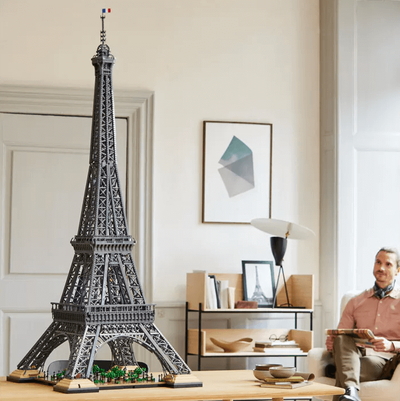 Conclusion
If you're looking for an amazing Lego® set to build, the Creator Expert 10307 Eiffel Tower Paris is a great option. It's an incredibly detailed and realistic replica of the real thing. The finished model is sturdy and makes for a stunning display piece. The build process is fairly straightforward and even though the finished product is quite large, it's not too difficult to move around or display.
The only downside is that it's quite expensive. The price tag is high (over $600), but for such a detailed and iconic set, this set is definitely worth the investment for die-hard Lego® fans and Eiffel Tower lovers.
The set will be available for purchase from 25 November 2022. And if you order until 28 November 2022, you have the chance to also get the Lego® 40579 Eiffel's Apartment set!
Want to buy other newly released Lego® sets? Check out our review of the Lego Marvel Hulkbuster 76210, released on 04 November 2022. It holds the record of being the largest Marvel set ever made. Do you want to buy Lego sets at a bargain price? In the Brickfact price comparison, you can choose from a variety of providers and save money. The Brickfact app informs you via push notification as soon as a new Lego deal is available. The Brickfact app is free and available for both iOS and Android.