It's been 10 years since Lego® first started creating sets inspired by Marvel characters and movies. During this time, we've seen some fantastic sets come out. So when Lego revealed the newest Lego marvel set: the Lego Marvel Hulkbuster 76210, many fans expressed their excitement.
Finally released on 04 November 2022, the Lego® Marvel Hulkbuster 76210 now holds the record of being the largest Marvel set ever made boasting an impressive piece count of 4049 pieces. The set is composed of a detailed replica of the Hulkbuster suit from the Avengers movies, a minifigure of Tony Stark, a stand, and an info plate.
The build itself is challenging but not too difficult, and it's definitely a fun set to put together. Thinking of buying the Lego Marvel Hulkbuster 76210? Then read on!
Buying the Lego® Marvel Hulkbuster 76210: pros
Since its first announcement in October 2022, many Lego® fans are still undecided on whether buying the Lego Marvel Hulkbuster is a good choice. If you're among those who need a little more details, here are some of the reasons why you should consider buying the latest Lego marvel set:
Impressive details
The biggest selling point of this set is undoubtedly the Hulkbuster figure itself. It's an impressive piece of work, and it looks even better when displayed alongside other Lego® Marvel sets. It's an amazing recreation of the Hulkbuster suit from the Avenger movies, and it comes with a cool minifigure too. The final product is also really sturdy, so it's great for play or display.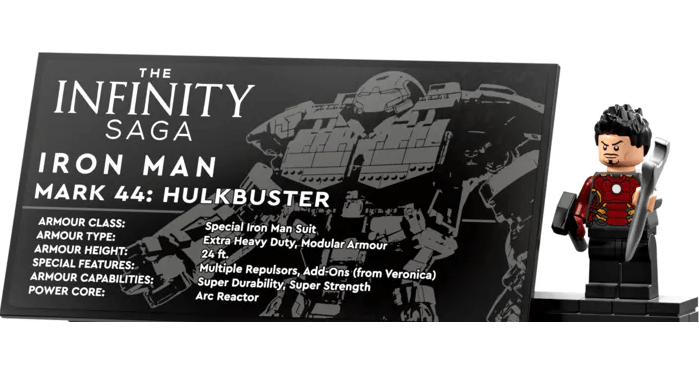 Compatibility with the 76206 Iron Man Figure
You can insert the 76206 Iron Man Figure inside the Lego® Marvel Hulkbuster to pilot it. Although some AFOLs think it's not entirely necessary, it sure adds value to the Hulkbuster.
Complete building instructions
There are 24 numbered steps that you can find inside the box, so even if you're not an experienced builder, you'll be able to put this one together without any trouble. This makes building the Lego® set easier and more enjoyable. At the back, you can also find a brief history of the Hulkbuster armor and how it was transformed into a Lego set.
Buying the Lego® Marvel Hulkbuster 76210: cons
Just like other great Lego® sets, the Lego Marvel Hulkbuster 76210 is not 100% perfect. One of the most noticeable flaws is its inaccurate proportions. Many fans expressed their dismay most obviously around the torso area. Below are other drawbacks that we noticed:
Very limited articulation
The Lego® Marvel Hulkbuster 76210 is yet the biggest Lego Marvel set to date. And its heavy weight leaves very little opportunity for functional joints The legs are completely static, which can be understandable because an articulated leg is unfeasible. And only the shoulders, elbows, wrists, and fingers are articulated. This is a bit of a disappointment for some Lego fans because it makes the figure less poseable and less fun to play with.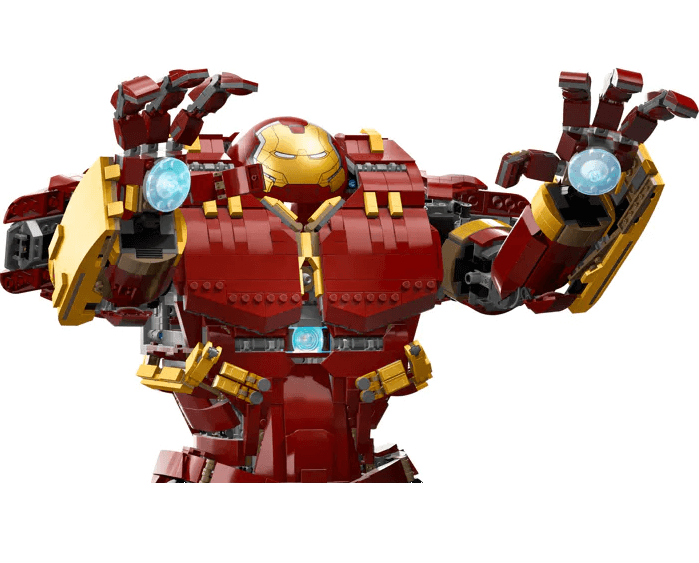 Remarkable gaps
One of the reasons why AFOL loves Marvel sets is because of the details. However, the Lego® Marvel Hulkbuster 76210 shows a lot of gaps like on the sides of the torso continuing underneath the shoulder joints. Other noticeable gaps are between the waist and the upper legs which is quite unacceptable because the legs are static, so these gaps should have been closed.
Highly overpriced
The Lego® Marvel Hulkbuster 76210 is undeniably the most expensive Lego Marvel set to date. The price tag - at $549.99, is not exactly cheap. For this price, you could easily buy two or three other Lego sets that are just as good. So unless you're a diehard Marvel fan, it is not a bad idea to pass on this set.
Conclusion: Is the Lego® Marvel Hulkbuster 76210 worth buying?
So, should you buy the Lego® Marvel Hulkbuster set? Overall, the Lego Marvel Hulkbuster 76210 is not all bad. It has been praised for its attention to detail, durability, and overall design. However, if you're not really into Marvel or Lego, then this might not be the set for you. It's not entirely terrible but it is also not perfect. And for its price, you would expect perfection.
But if you're a fan of the Marvel Universe, or if you just like building cool Lego® sets, then we say go for it! The Hulkbuster is a great set with lots of cool details. It's also a pretty challenging build, so it's perfect for older kids and adults who enjoy a good building project.
The Lego® Marvel Hulkbuster 76210 is made available to Lego VIP members from November 4th, 2022, and from Lego Stores from November 9th.
Want to buy other Lego® sets? Check out the best remote controlled Lego® Technic sets that will surely give you an enjoyable playing time! Do you want to buy Lego sets at a bargain price? In the Brickfact price comparison, you can choose from a variety of providers and save money. The Brickfact app informs you via push notification as soon as a new Lego deal is available. The Brickfact app is free and available for both iOS and Android.