Lego® Sets for Adults
Thanks to diverse themes, the most varied areas of interest for adult Lego fans are covered. In addition to small building sets such as the skylines of Architecture theme, there are also large sets that recreate the buildings of antiquity or iconic car models.
You can usually recognise Lego sets for adult builders by the 18+ label. However, this is only a recommendation on the part of Lego. Some children still take great pleasure in trying out these somewhat complicated sets. And so there are also some popular sets for adults that Lego actually intended for a younger target group. For example, various sets from the Harry Potter theme.
Lego® Technic for adults
The Lego® Technic models fascinate young and old. Besides modern racing vehicles, breathtaking bulldozers and detailed cranes provide lots of building fun. Technology enthusiasts can marvel at the functions of axles, drive shafts or motors. At the same time, it is possible to control selected vehicles electronically by remote control. Lego Technic models come in a wide variety of sizes and price ranges. There are small sets for 10-15€ and huge sets with thousands of parts for several hundred euros. The Lego Technic theme world has been around since the late 1970s, so many sets evoke nostalgia and childhood memories for adults.
Lego® Cars for adults
Car lovers, for example, can enjoy modern racing cars, iconic classic cars or impressive construction site vehicles at Lego®. Fans of well-known car brands such as Volkswagen or Porsche have the opportunity to bring their favourite models home in miniature format. Technically-minded adults get their money's worth with Lego cars, so even some of the Lego Technic models can be remote-controlled. Lego cars are available in different sizes and price ranges as well as in different theme worlds.
These Lego® themes are aimed at adults
With the marketing campaign "Adults Welcome" 🇩🇪 🇺🇸 the Danish company is specifically targeting adults. The following themes are marketed specifically in parts to adults.
Lego® Architecture
The Architecture theme world is intended to "celebrate the past, present and future of architecture with the Lego brick", according to the Danish brick company. Lego models of famous buildings are published under the Architecture theme. These are not suitable for play and therefore primarily appeal to adult enthusiasts and collectors.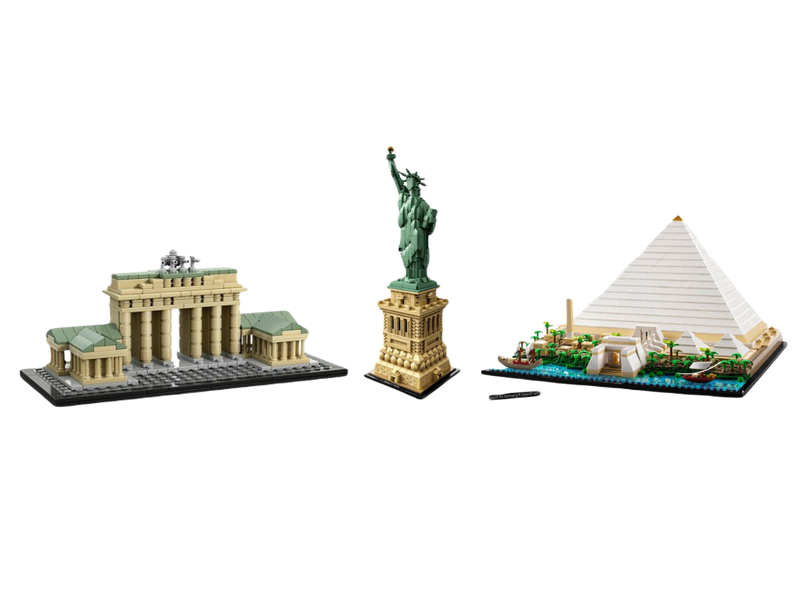 Lego® Ideas
In this section, sets are published that originate from fan suggestions. The Ideas theme has been around since 2008 and mainly contains larger sets on various themes.
Lego® Disney
There are some sets here that are likely to awaken truly nostalgic memories in adults. It's worth taking a look at the Lego® Disney range.
Lego® Creator Expert
Sets in this series are often challenging to build and have a large number of bricks. The theme world is particularly popular with adults for its modular buildings, among other things, which can be used to build large Lego® cities.
Lego® Star Wars
Lego® Star Wars sets are available for a wide range of ages. Among the multitude of sets, the "Ultimate Collectors" construction sets are particularly likely to excite adult fans.
Lego® Art
The Lego® Art theme series was launched in 2020 and focuses on Artwork Portraits. The sets often contain thousands of 1 x 1 Lego bricks that resemble mosaics. The artworks depict portraits of famous figures and personalities. These include, for example, Mickey Mouse and Elvis Presley. As a highlight, it is possible to hang the portraits on the wall like real paintings.
Lego® Gift for Adults
Are you looking for a suitable gift for your loved ones? Hopefully we could show you that a Lego® set is a good idea.
Grown-up men in particular have a lot of fun with the Lego Technic excavators and cranes and marvel at the functionality of the detailed models. Modern racing cars or iconic classic cars in miniature format are also ideal as gifts. Football fans get a lot closer to their football club thanks to true-to-scale stadium replicas from the Creator Expert theme.
During the Christmas season, winter Lego building sets make an ideal gift. Whether it's Christmas decorations made of Lego bricks or festively decorated Christmas houses of the Winter Village Collection. Every Lego winter set provides building fun and friends.
Want to know when adult Lego sets are available at the best price? The Brickfact app notifies you via push notification as soon as a Lego set is available at a bargain price. The Brickfact app is free and available for iOS and Android.