Lego® Creator Expert becomes Lego Icons - This was announced by the Danish company in a press article at the end of May 2022. Since the Creator Expert theme was discontinued in 2020, Lego has marketed the sets without a theme designation.
New packaging design
New building sets from the former Lego® Creator Expert theme have been marketed as "18+" sets since the theme was abolished. In the Lego Online Shop, the designation has remained until now. The packaging has a plain black design. Lego also uses this new design for 18+ sets of the themes: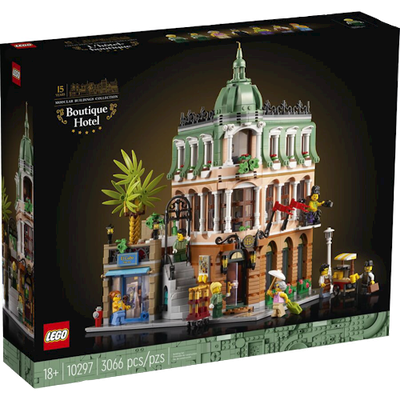 "18+" labelling
With the "18+" label, Lego® is particularly targeting adult builders who are looking for detailed and large Lego sets. On the official Lego website, the adult sets are advertised with the slogans "Adults Welcome" and "Lego for adults".

Lego® Icons theme from the beginning of 2023
On 01 January 2023, the time will come and the new designation will officially appear on the Lego® website and on the corresponding packaging. 
All "18+" sets will be marketed as Lego Icons sets from this point on. Lego sets that are marked "18" but are already assigned to a theme world will not be unnamed. These include, among others, building sets from the themes mentioned above. 
All Lego sets that can still be found on existing Creator Expert theme pages will then be grouped together under the new name Lego Icons. This also includes the sub-theme worlds:
Botanical Collection 
Vehicles 
Fairground Collection
Modular Buildings 
Space Sets
Winter Village Collection
Reason for the renaming
Lego® itself justifies this approach by saying that it should make it easier to find Lego sets that have been specially designed for adults. 
Buy Lego ®Icons sets cheap
As with all other themes, it's worth buying Lego® Icons sets on special offer. Discounts between 5 and 15 % are not uncommon, and even more is possible. Some of the sets are sold exclusively by Lego itself. Here it is worth waiting for 2-fold VIP points or attractive GWPs. How to buy Lego sets at a low price is explained in the Brickfact Guide Find Lego® deals: This is how you save the most money!
The Brickfact app informs you via push notification as soon as Lego Icons sets are available at best prices. Best of all, the app is completely free and available here for iOS and Android.