Investing in Lego®: "If you're going to do it, do it right!"
Welcome to the world of Lego investment! Certainly, we were all once enthusiastic builders of the colourful bricks, or we still are. Now, however, we find ourselves in a new position, namely that of investor or future seller.
To make it easier for you to get started in the investment world, we'll give you 10 tips for managing your Lego collection in this article. 
1.Overview of the Lego® collection with Brickfact
Some sets have already found a place in your portfolio, but the overview is fading faster than you would like. Which set was bought at what price? How many Donald Duck BrickHeadz are in the depths of the shelves?
To avoid such ambiguities, it is advisable to digitally record your Lego collection so that you always have an overview and know which sets you should keep an eye out for. 
The Brickfact App is the ideal tool! It allows you to track your Lego collection and shows you the value for all your sets.
Set up Brickfact step by step
Download the Brickfact App 
Add the already existing sets to the collection
Enter the date of purchase and the purchase price in each case 
Each time you buy, you simply repeat the process, just as you do when you sell the sets.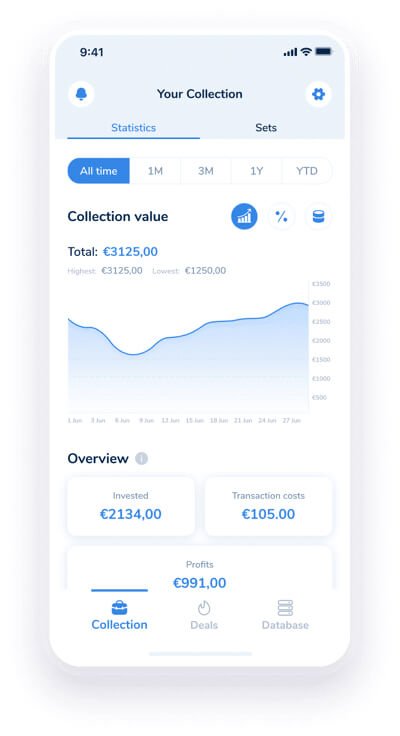 Brickfact is available as an iOS and Android app.
Click here to download


2.Purchase with a strategy
Buying Lego® sets at random only makes sense in rare cases. But of course when they are particularly heavily reduced. This is usually the case when availability on the market is particularly high and the end of life (EOL) is still somewhat in the distance. The best offers are often available at this time. The prices already rise as soon as Lego reduces or even ends the delivery of sets. You can find more detailed information about the EOL date of a set in the Brickfact app, where regular deals are also waiting for you so that you can make your purchase strategically.
3.Control is good, trust is better!
Wear and tear, dents or scratches, we as Lego® investors don't need any of that. That's why it's especially important to inspect the sets after they arrive. 
Set a tolerance for this, but make sure you don't return sets for every little thing. This can lead to your account being blocked by various shops. If a set shows signs of wear, it is your right to insist on an exchange or a credit note.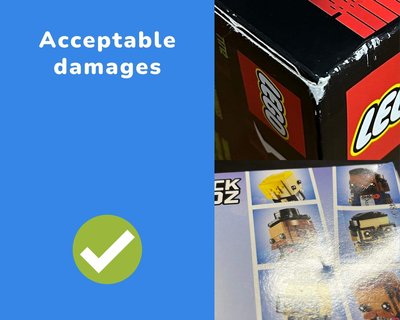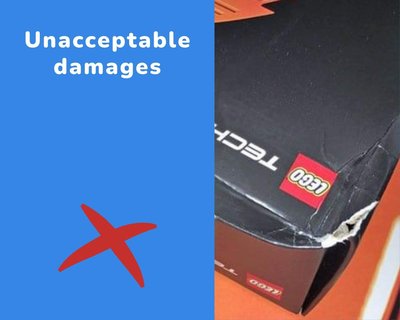 4.The best Lego® storage
For storage, you should introduce a system right from the start according to which the sets are stored. It is obvious to sort the sets according to theme worlds and sizes, so that no space is wasted in the shelf height and depth and you do not have to search for the sets for a long time. 
Ideally, you should use a storage system and label the shelves so that you can see directly in an Excel spreadsheet or a professional programme, for example, where the set is that is currently needed.
Large Lego® sets
For large and heavy Lego sets, it is advisable to place them on a shelf on the long side. You should avoid simply laying sets down.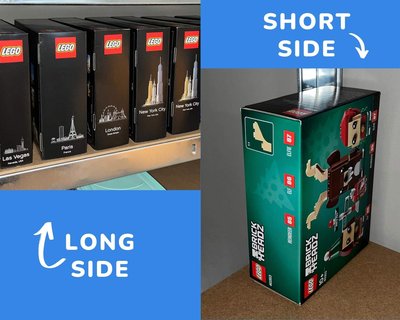 Small Lego® sets
Smaller sets, on the other hand, can also be stored on the short side if the package contents have a low weight. It is important to change the short side every few months to avoid bulges. Small sets such as the Skylines of the Architecture series, Brick Headz or Speed Champions can be stacked on top of each other without any problems, up to 10 sets on top of each other are possible without any problems.
What else needs to be considered
Heavy duty shelving is great for storing Lego® boxes, not only does it save space, but you can customise it to fit the size of the sets and arrange the boxes. The best shelves are those with a depth of 60cm and smooth shelves Heavy duty shelf 60cm depth. Alternatively, shelves with a depth of 50cm are also available Heavy duty shelf 50cm.
Lego boxes are best stored at a temperature of 14 to 20°C, and the humidity should not exceed 55 to 60%. Higher values can lead to mould or mildew stains.
For control you can use simple thermo hygrometer. In order to prevent increased humidity, there are passive possibilities, such as the use of dehumidification granules. This variant is inexpensive and still effective for smaller rooms.
On the other hand, active solutions such as dehumidifiers can be used. Dehumidifiers are available for smaller rooms from 40€. dehumidifier up to 20m² and for larger rooms from approx. 180€ dehumidifier up to 63m². Be sure to take into account the electricity costs: a dehumidifier with an output of 200W will cost you 6 cents per hour at a kilowatt price of 30 cents. This price should definitely be included in your calculation.
Lego sets must be protected from UV light, otherwise unsightly fading can occur.
Example storage of a small Lego® collection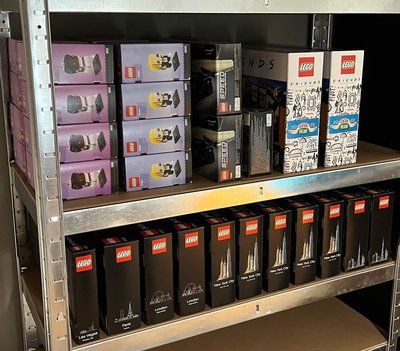 5.Plan the sale
Your warehouse shelves are filled up to the smallest corner, surely some EOL sets are already waiting to be sold. In order to make the sale efficient, it should be planned precisely. This includes appropriate sales platforms (Amazon, ebay, Bricklink), good product photos and formulated ad texts.
You can create product photos with a photo box 60 x 60 x 60cm, or use photos directly from the dealer. Don't forget to ask the dealer for permission in advance. If you are a seller on eBay, you can also use the eBay catalogue.
6.Verkaufen nicht vergessen
If sets have been EOL for several months or years, it is time to sell them. The greatest increase in value is achieved after this period. At Brickfact you can see which set is already EOL and judge by the price curve whether the time to sell has come. 
After the first sales, the cash flow starts rolling in and you can steadily expand your investment portfolio. 
7.Perfectly stored, perfectly packed
When the time of the first sales has come, the small and large treasures still have to be brought on their way to the new owner. It would be all the more annoying if the set arrives at the new owner damaged. 
Make sure you have enough packaging materials in advance, as larger sets in particular are otherwise not easy to ship. It is possible to use used cardboard boxes and padding materials. For example, you can cut the boxes into small pieces so they don't take up too much space. 
If you have a large Lego® portfolio and identical sets in larger numbers, it may be advisable to use new boxes and packaging materials. Recommendable are e.g. scrap paper, bubble wrap a air cushion pads.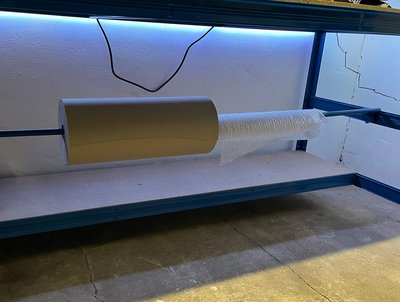 Free alternatives
Newspaper 
Shredded paper 
Collect upholstery materials from orders or ask acquaintances
8.Lego® Insurance
Despite all precautionary measures, it is still possible that Lego sets can be damaged or, in the worst case, even destroyed by external influences such as fire or water. It is essential to take precautions against this extreme case if you have a large investment. 
In rare cases, it is worth insuring a portfolio value of €500, but if this exceeds sums that would cause you greater financial damage, it is worth considering taking out appropriate insurance.
In the case of private collections, it is advisable to consult your trusted insurance agent, often the household contents insurance can be adjusted accordingly. This then requires a small supplement to the previous sum insured.  
The situation is different for commercial resellers, who can take out inventory insurance, for example. A storage value of up to €75,000 can be insured with an annual sum insured of around €350. For tradespeople, it is advisable to take out inventory insurance anyway. This protects your business from insolvency or even bankruptcy. If a major loss occurs, in the worst case you will have no goods to sell and will no longer be able to pay current invoices.
Regardless of what applies to you, an inventory list should be kept in any case. It is also advisable to regularly photograph the stock. If you maintain your Lego collection at Brickfact, then this can also serve as proof, here even the current value of the collection is recorded and constantly updated.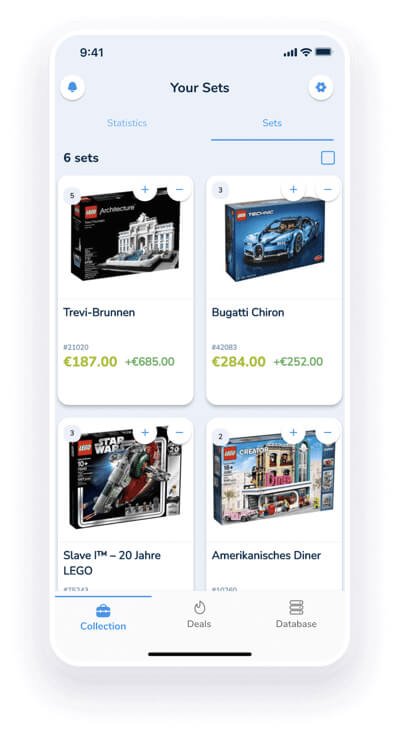 9.Stay up to date
To ensure that nothing stands in the way of successful Lego® investments in the future, it is important to keep learning.
Follow Bricfact on Instagram and never miss any news or exciting analysis! On the Brickfact website you can watch the EOL date of sets and expand your horizon. With Brickfact you always stay up to date!
10.Do not forget joy
Last but not least, it is especially important not to lose the joy of our popular building blocks. If you take our tips above to heart, then nothing will stand in the way of joy. Every now and then it's fun to build a set or two yourself, isn't it?