If you're a fan of Lego®, you know the sheer joy of creating something wonderful with those tiny bricks. But what's even more magical is the feeling of bringing your Lego creations to life. And thanks to Lego Motors, the possibilities have become endless.
Whether it's a castle, a spaceship, or a Lego Technic car, every Lego builder knows how important it is to have a dependable motor that will produce realistic Lego play. Unfortunately, Lego motors can be a bit pricey and sometimes, hard to come by. Luckily, there are Lego Motor alternatives that you can use as a substitute.
The best Lego® Motor Alternatives
Just as there are many Lego® Mindstorm alternatives in the market, there are lots of different Lego Motor alternatives as well. Each offers different functions that could take your building to the next level. But with so many options available, it can be tough to know which one to choose. That's why we've put together a list of the best Lego alternatives out there.
SEEMEY 32Pcs Power Function Kit
Elevate your Lego® Technic creations with the SEEMEY 32Pcs Power Function Kit. Designed for the dedicated builder, this set ensures compatibility with all power function supported Lego sets.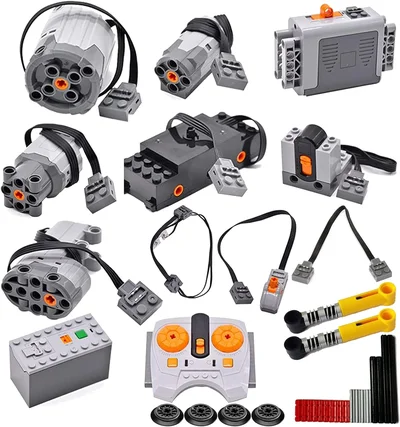 Age recommendation: Above 12 years
Highlight: Comprehensive Power Function Kit to enhance Lego Technic builds, featuring 5 specialized motors and essential power and control components
Compatible with all power function supported by Lego sets
The set includes the following motors:
Train Motor 88002
Medium Motor 8883
L Motor 88003
XL Motor 8882
Servo Motor 88004
Additionally, it boasts essential components like AA and AAA battery boxes, a light cable with 2 LEDs, Power Functions Control Switch, IR tools, and more. This 32-piece kit is the perfect addition for L aficionados aged 12 and up.
Skyview 7PCS Power Function Motor Set
The Skyview 7PCS Power Function Motor Set, emerging as a dependable Chinese alternative to Lego® Technic, delivers a specialized package for dedicated block builders.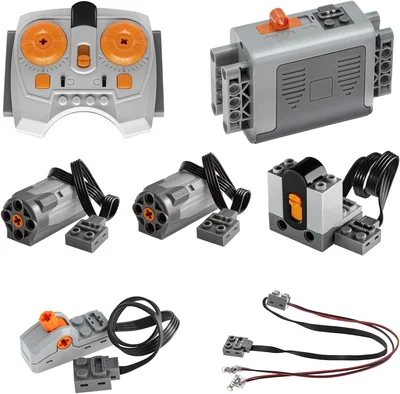 Age recommendation: Suitable for ages 8 and up
Highlight: Highly compatible power function motor set, seamlessly integrating with Lego®, Mega Bloks®, and K'Nex®, enabling dynamic movement across custom creations.
The set encompasses:
2 x Medium Motors
1 x Receiver
1 x Power Function Switch
1 x LED Cable
1 x Remote (batteries not included)
1 x Battery Box (batteries not included)
Engineered for efficiency, the system can simultaneously power 2 XL-motors or 4 M-motors, supporting both forward and reverse operations. Notably, its compatibility extends beyond Lego, accommodating other major brands like Lego, Mega Bloks®, and K'Nex®. This interoperability enables users to integrate dynamic movement into their bespoke creations across various platforms. For Lego and tech devotees, the Skyview set represents a significant enhancement to their building arsenal.
Sparkleiot Power Functions M Motor
The Sparkleiot company stands out as one of the top-tier providers of motor alternatives compatible with Lego® systems. In recent years, Sparkleiot has made significant strides in the industry, becoming renowned for producing dependable, high-quality motors crafted to seamlessly integrate with Lego and similar block systems. Their motors are built with an emphasis on durability and efficiency. An impressive feature of these motors is their advanced heat dissipation technology, ensuring peak performance even under substantial load. Furthermore, the adjustable speed settings allow users to fine-tune the motor's speed to the specific needs of their projects.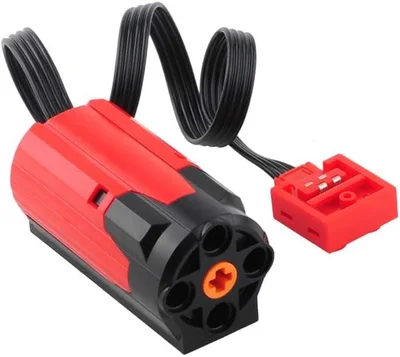 Age recommendation: 13+ y/o
Item Dimensions: 1 x 1 x 2 inches Highlight:
Speed peaks at 520 rpm, operating at a voltage of 7.4 volts
The Sparkleiot Power Functions M Motor offers an excellent alternative to the traditional Lego M Motor 8883. When compared to the conventional Lego motors, the Sparkleiot Power Functions M Motor stands out with its enhanced performance attributes, making it particularly desirable for intricate robotics and mechanical engineering projects. The combination of its power, speed, and compatibility with Lego and similar building block systems positions it as a top choice for both enthusiasts and professionals.
With a top speed of 520 rpm, the compact design of the Sparkleiot Power Functions M Motor guarantees ease of installation, even in tight spaces. This makes it ideal for robotics applications where power and speed are requirements such as the remote controlled Lego Technic sets. It also comes equipped with essential accessories, including mounting brackets and cables. Given its high-end performance at a reasonable price point, it becomes an unbeatable option for those who prioritize quality without overextending their budget.
DooQi CADA Technik: Power Function Kit
DooQi CADA Technik is a company that specializes in creating power function kits for Lego® blocks. These kits allow users to add motorized functions such as movement, sound, and light effects to their favorite Lego creations like the Lego railway sets. The company is known for producing high-quality, reliable products that are easy to use and compatible with a wide range of Lego sets.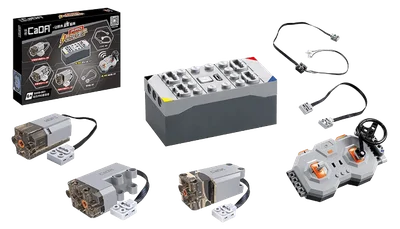 Age recommendation: 10 y/o and up
Item Dimensions: 17.76 x 2.76 x 12.24 inches
Highlight: 3 motors: M motor, servo motor, L motor + 30 cm extension cable
The DooQi CADA Technik Power Function Kit is a handy little kit that includes everything you need to add power functions to your Lego creations, including a motor, battery pack, and remote control. It comes with both a high-torque motor and a low-torque motor, giving you great versatility when it comes to controlling your creations. It also features a range of settings for speed, direction, and idle time control.
Lego® Motor Alternatives: Why are they interesting?
Lego® motor alternatives are increasingly catching the attention of both young and adult Lego fans for a variety of reasons. From being customizable to being able to move objects in a more precise way, these motor alternatives are comparable to Lego motor models. Here are some reasons why they are interesting.
Offer better specs
Lego® Motor Alternatives may offer better specs as these motors provide a much higher torque-to-weight ratio than their Lego equivalents such as WANGCL for Lego M Motor 8883. It has a speed that goes up to 700 rpm, and torque up to 20 Ncm. This means that it can produce more power while consuming less energy and still maintaining its durability. Additionally, it is also much quieter than a standard Lego motor.
Easier to control
Lego® motor alternatives are becoming increasingly popular with MOC builders and hobbyists, as they offer a great way to control a model's movement. With a Lego motor alternative like RUIZHI Servo Motor, you can control the speed of your model with precision, allowing you to create complex movements that would be impossible with traditional motors.
You can also adjust the power output of the motor so that it is suitable for the size of your model. This means that you don't have to worry about overpowering smaller models or underpowering larger ones.
More versatility
Lego Motors® are specifically designed for Lego models, making them the ideal choice when you need a motor that specifically fits the model you need. However, if you're looking for a motor that can be used for a wide range of projects, then a Lego Motor alternative might be the better choice.
For example RUIZHI, it is extremely versatile as it can be used with a variety of different brick systems such as when you are building Lego Technic alternatives. This means that you can use the same motor for multiple different projects, without having to source separate parts or motors for each one.
Lego® Motor Alternatives: Checklist
When it comes to sourcing Lego® motor alternatives to switch up your Lego collection, there are a few things that you should keep in mind before deciding which to buy. Here is a handy checklist that can help you make sure you're getting the best products that will fit best to your needs:
Power
The power requirements for your project will also influence your choice of motor. If you need a powerful motor, there are many Lego® Motor alternatives that excel in this area even outshining Lego. One of the ideal candidates for this is the TOIL Technology Motors.
Efficiency & Speed
When selecting your motor, it's important to consider how fast and efficiently it will work to get the desired results especially if you are building sets like Lego cars. Compare specs such as RPM (rotations per minute) and torque ratings before making your selection.
Size
Know the size of the motor that you will need for the type of project you're working on. If you need a small motor, you may be able to find one that's compatible with Lego® bricks. Fortunately, there are some motor alternatives that offer a smaller and more compact design in comparison to Lego which usually is on the bulkier side.
Price
Check on the prices of several alternatives and narrow them down based on your budget. With Lego® motor alternatives, they are often inexpensive compared to the Lego models and they offer the same (sometimes higher) level of quality and performance. But it's not always the case. Sometimes buying cheaper alternatives would risk the quality of the product.
Compatibility & Connectivity Options
Make sure you check if the motor is compatible with existing components in your build and that there are plenty of connectivity options available for easy integration into other systems such as remote control systems or computer systems for automated control or data logging purposes respectively.
Conclusion
The influx of many different Lego® alternatives on the market demonstrates the dedication and passion of the growing community of Lego fans to expand their builds outside Lego models and take them to new heights. With so many Lego motor alternatives available now, builders can find the perfect motor for their needs, whether it's for speed, power, or something in between.
If you are looking for the best sets to test your Lego motor alternatives, check out the Brickfact App. It offers the best Lego deals at an affordable price and has a price comparison feature that allows you to choose from a list of sellers and buy Lego sets at the best price. Plus, it informs you by push notification as soon as Lego sets are available at the best prices. Best of all, the Brickfact app is completely free and available for iOS and Android.