Adventure, experiences and lots of fun! - In Legoland, you will embark on a great voyage of discovery and discover the world of colourful Lego® bricks in a completely new way. Who's dream wasn't to live in their own little Lego city? In Legoland, childhood dreams come true: that's a promise! 
To make your visit to Legoland an unforgettable experience, we'll give you the most important information in this guide. 
A visit to Legoland is perfect for every fan of the terminal bricks. It doesn't matter if you're with family, friends or even as a destination for the next school trip. Everyone gets their money's worth here! The number of possibilities is huge.
Legoland® locations
"On your mark, get set, go": Let the adventure begin! You can have a great time at all locations. Legoland has 2 locations in Germany:    
Legoland Günzburg, Bavaria
Legoland Discovery Centre Oberhausen, North Rhine-Westphalia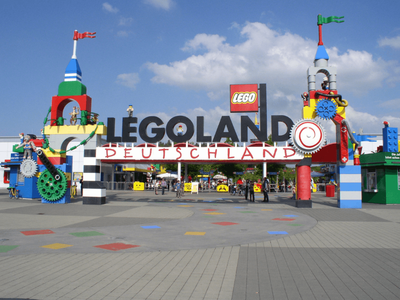 The trip can be a bit longer or the visit to Legoland should be combined with a holiday trip? You can experience adventures around the Lego theme world not only in Germany! In Europe there are the following locations:
Legoland Billund, Denmark
Legoland Water Park Gardaland, Italy
Legoland Windsor, Great Britain
There are also locations around the world: 
Legoland California, USA
Legoland Florida, USA
Legoland New York, USA
Legoland Malaysia Resort, Malaysia
Legoland Japan, Japan
Legoland Dubai, United Arab Emirates
Legoland® Prices
Tickets for Legoland can only be purchased online. It is not possible to buy tickets on site. Ideally, you should buy your tickets a few weeks in advance so that nothing stands in the way of your visit and there is still enough capacity available.
Legoland® Günzburg
The regular price for a one-day ticket to Legoland Günzburg is as follows
Adults: 54 €
Children: 48 €
Children under 3 years: Free admission
Watch out: Occasionally there are attractive discounts on the Legoland ticket website.  
Are you a diligent collector of Lego® VIP points? Alternatively, you can redeem 4,000 points for a ticket to Legoland!
Legoland® Discovery Centre Oberhausen
Admission for a day ticket to the Legoland Discovery Centre Oberhausen costs regularly:
Adults & children: €18.50
Children under 3 years: Free admission 
Attention: Admission for adults is only permitted when accompanied by at least 1 child. 
When booking your day ticket, you will be asked to select a visit period. The day ticket is valid for 3 hours from the selected time. 
At the Legoland Discovery Centre Oberhausen, you also have the option of redeeming Lego® VIP points for admission. For 1,500 points, you receive a ticket for the Discovery Centre.
The best attractions at Legoland®
At Legoland® you can experience great adventures with your loved ones and embark on exciting journeys of discovery. The little ones will enjoy the countless rides and the grown-ups will discover miniature cities made of millions of Lego bricks. 
Below you will find the best attractions at Legoland Günzburg and Oberhausen.
Attractions at Legoland® Günzburg
Legoland Günzburg is divided into 10 themed worlds. In the Lego® Ninjago World, your skills as a ninja are put to the test. Discover the Lego Ninjago World in a 4D illusion on "The Ride"!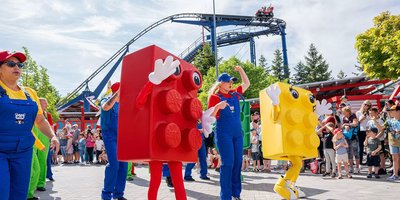 Want even more adrenaline? The "LEGO® X-TREME" theme world promises pure adventure! Legoland Atlantis by Sea Life is a huge aquarium that is the habitat for almost 1,300 sea creatures. Colourful fish, sharks and starfish are waiting to be discovered by you! Are you a fan of the cool waters? Then the "Wave Rider" and the "Water Playground" are just right for you!
Miniland" recreates many of Europe's sights and cities on a scale of 1:20. The masterpieces consist of more than 23 million individual Lego bricks. Unbelievable, isn't it?
Legoland® attractions at the Discovery Centre Oberhausen
The Legoland Discovery Centre Oberhausen is an indoor play paradise for children of all ages. Best of all, it's open all year round! 
In the Lego® factory you can marvel at the manufacturing process of the colourful sticky bricks. Adventure and excitement meet in the Lego 4D cinema. In 20-minute films, you can experience the various Lego theme worlds up close. 
The Legoland Discovery Centre Oberhausen also has a "Miniland". Here you can marvel at the most famous sights of the Ruhr region.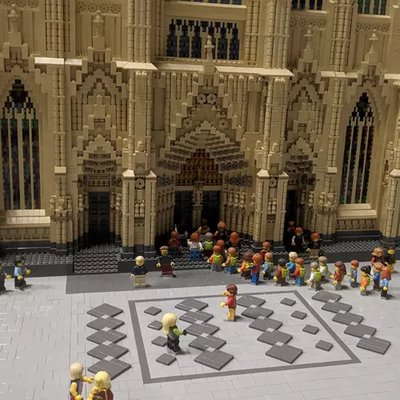 Checklist for your visit to Legoland®
To ensure a smooth visit to Legoland, we have created a checklist for you. Here you will find everything that is important for your stay.
1. Who is Legoland® just right for? 
Legoland is suitable for Lego fans of all ages. Families with children and teenagers are the main target group. Thanks to a variety of attractions, everyone has fun. Children also go on exciting adventures and the older ones discover Miniland. 
2. Have I planned enough time for my visit?
Allow 3 to 4 hours for your visit to the Legoland® Discovery Centre. Especially as the visit is limited to 3 hours anyway. 
If you are visiting a large park such as Legoland Günzburg, you should definitely plan more time! If you plan to stay longer, this is no problem at all. The variety of attractions and events is huge. Even if you stay for 2 or 3 days, you will certainly not get bored.
Legoland® hotels
At the Legoland Hotel you can really enjoy yourself! Among other things, you can stay in the infamous Legoland Castle: Pure adventure! If you're looking for something a little more rustic, Legoland Camping might be just the thing for you.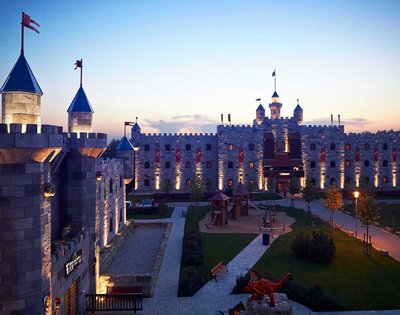 3. Enough food - the be-all and end-all 
Especially in spring/summer it is important to prepare a small packed lunch in advance. Adventurers big and small need a lot of energy! Alternatively, Legoland® has many different options for eating: No matter whether it's a small snack or an extensive evening meal!
4. Which attractions would I like to visit?
To avoid disappointment, it is advisable to make a plan in advance as to which attractions should definitely be visited. When many federal states are on holiday, it can get quite crowded. 
You can see the various park plans on the Legoland® website. We have selected the park map ofLegoland Günzburg and Legoland Billund as examples. 
5. Legoland® opening hours
In the period from 2 April to 6 November, Legoland Germany is open from 10 am to 6 pm. Note: The rides close 1 hour before the park closes.
Frequently asked questions about Legoland®
To make planning easier for you, we have put together the most frequently asked questions about Legoland®. 
Where is the biggest Legoland® in Germany?
Germany's largest Legoland® is located in the Bavarian district town of Günzburg. With 64 attractions, you're sure not to get bored here! 
How many Legoland® are there in Germany? 
There are 2 Legolands® in Germany. One is Legoland Günzburg in Bavaria and the other is the Legoland Discovery Centre Oberhausen in North Rhine-Westphalia. 
What age is Legoland® suitable for? 
Legoland® has attractions for children of all ages! Already from 1 year and a minimum height of 80 cm the fun begins. Most offers are for children between 8 to 11 years.
Can I pay in euros at Legoland® Billund? 
At Legoland Billund it is possible to pay in euros. However, only notes up to €200 are accepted. Coins are excluded. Change is given in Danish kroner. 
Currencies can be exchanged for e.g. Danish kroner at the Danske Bank. You will find the Danske Bank at the entrance next to the information desk.
How much does a Legoland® Annual Pass cost?
An annual ticket for Legoland® Germany costs €79. It pays for itself from the 2nd visit! 
Is Legoland® something for toddlers?
Auch die kleinsten Abenteurer haben im Legoland ihren Spaß! Verschiedene Attraktionen sind bereits für Kinder ab 1 Jahr und einer Mindestgröße von 80 cm geeignet. 
Are dogs allowed in Legoland®? 
Unfortunately, dogs are not allowed in Legoland. Exceptions are, for example, trained guide dogs. 
If you have no place to put your dog, Legoland Günzburg offers the option of a dog house. For a fee of €4, you can keep your dog here. Please note, however, that the dog house closes 1 hour before the park closes. 
Let the pleasure begin
Now nothing stands in the way of a visit to Legoland®! We wish you and your loved ones lots of fun and great adventures. 
A visit to Legoland will enchant both young and old building heroes. The little ones have lots of fun discovering the numerous attractions and the grown-ups reminisce. From roller coasters to Miniland: there's something for everyone here!