Buy Lego® Avatar cheap
The film "Avatar", first released in 2009, is the most successful cinema film of all time. Directed by Oscar-winning director James Cameron, the lavishly produced Avatar film is still considered a milestone in 3D film history. On behalf of a US commodities company, the former US marine Jake Sully sets off on a journey to Pandora. His mission is to convince the indigenous people there, the Na'vi, to mine the raw material unobtainium, as it is needed on Earth. Sully transforms into an avatar and thus looks like the Na'vis. He falls in love with the chief's daughter Neytiri. After an eventful battle, the Na'vis manage to defeat the invading forces.
The first wave of Lego Avatar sets will be released on 1 October 2022, with five exciting sets waiting for you to discover. The Avatar sets pick up on well-known scenes from the film Avatar. We can expect more sets in 2023, based on the second part "The Way of Water", which will be released on 16 December 2022. According to current rumours, the second part is about the founding of a family between Sully and Neytiri, and thus also about the return of the invasion troops. The young family is forced to seek refuge in the sea world of Pandora. With Lego Avatar sets, re-enact your favourite scenes from Avatar and fight alongside the Na'vi against the exploitative occupiers.   
The selection of Lego Avatar sets is huge. Buy your Lego set at a bargain price with Brickfact's price comparison and choose from a list of sellers. Thanks to the Brickfact filter options, you can find the Lego Avatar Set that suits you best. 
Fight alongside the Na'vi and help Sully protect the planet Pandora!
Lego® Avatar 75574 Toruk Makto & Tree of Souls
One of the highlights of the Lego® Avatar sets is the 75574 Toruk Makto & Tree of Souls. With the Tree of Souls, you can recreate exciting scenes from the film Departure to Pandora. With the help of the dragon Toruk Makto, Sully manages to unite the different Na'vi tribes. Buy Lego Avatar sets at bargain prices with the Brickfact price comparison. If you wish, the Brickfact app will inform you by push notification as soon as a new Lego offer at the best price is available.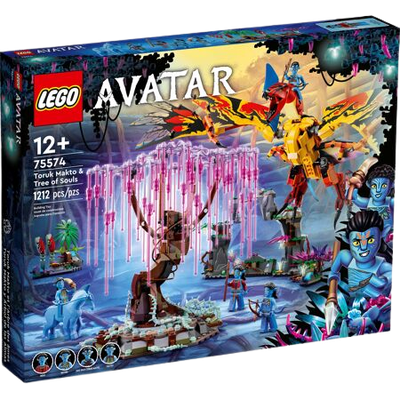 Exciting adventures are guaranteed with the 75574 Toruk Makto & Tree of Souls.
Lego® Avatar Deals
With the Lego® Avatar theme, children and adults go on a journey to Pandora and experience exciting adventures. The Avatar sets can be individually combined with each other and guarantee lots of building and playing fun.  
Bargains can be made all year round. With the Brickfact price comparison, you can buy your Lego Avatar set at the lowest price. If you want, the Brickfact app will notify you about new Lego deals.