For those unfamiliar with Lego® Mindstorms, it was a line of Lego products designed to teach children and adults the basics of programming and robotics. The kits have everything you need to build a working robot, including a controller, sensors, and motors. Some people use them for competition, others use them for fun, and still, others use them for both. However, the popular robotics platform, which has been around for over 20 years, is being discontinued.
While none have the same accessibility, affordability, and support as the Lego Mindstorms, if you are a fan of Lego or, in general, just a technophile, there are many other robotics platforms in the market worth checking out. And the good news is these Lego alternatives are incredibly user-friendly, and affordable as well!
The 8 best Lego® Mindstorms Alternatives
If you're looking for a great Lego® Mindstorms alternative, you can't go wrong with any of these 8 options. We've compiled a selection of some of the best Lego Mindstorms alternatives on the market, so you can find something that suits your needs perfectly. From classic building blocks to more high-tech options, and with prices ranging from just a few dollars to hundreds, you can surely find something to fit your needs or budget.
Thames & Kosmos
Thames & Kosmos is a German-based science and technology education company. Founded in 2001, the company produces a wide range of educational science kits, experiments, and activities for children and adults. Their mission is to improve the way science and technology are taught, making learning more exciting, hands-on, and engaging. Thames & Kosmos offers a variety of science kits that cover a range of topics, including biology, chemistry, physics, engineering, robotics, and more. They also have a line of educational products for kids, including a junior science series, a science fiction series, and a kit for young inventors.
Kosmos 620400 Roboter Master Robots Science Kit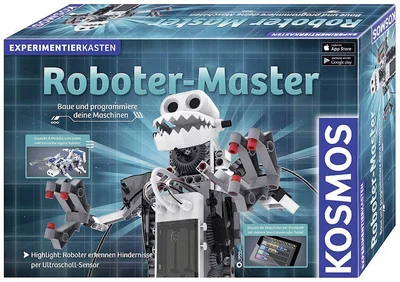 Young technology enthusiasts can pick from eight different robot models. They can build a humanoid robot that has two motors, and an ultrasonic sensor that can respond to its surroundings. Or a crocodile robot that assaults and snaps when the situation becomes dangerous. The Kosmos comes with a guide that will explain step-by-step how to construct each of the models, as well as how to program them using a tablet or smartphone via Bluetooth controls. There is also a free app associated with this activity, which contains seven programs that can be used immediately to set various robots in motion. Perfect for kids aged 12 and up!
Robo Wunderkind
Robo Wunderkind is a company that produces educational robotics kits for children. Their goal is to inspire kids to learn about technology and engineering by building and programming their own robots. The kits come with modular blocks and a smartphone app that allows kids to easily create and control their creations. The company also offers additional educational resources and support for parents and educators to help kids learn and grow with their robots.
Robo Wunderkind Kit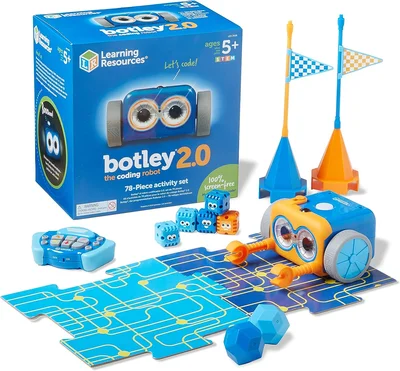 Introducing the VATOS 2 in 1 Excavator, an innovative coding toy designed for children. Crafted with the expertise from the creators of Botley 2.0, the Toy of the Year winner, this excavator ensures 100% screen-free learning. It empowers children as young as 5 to explore coding through diverse methods, including music, lights, and movement. With 16 engaging interactions, kids can seamlessly transform their excavator, enhancing their STEM skills along the way. Each VATOS set offers a captivating combination of coding sequences and interactive challenges. The perfect gift for holidays or homeschooling, this toy promises unparalleled learning fun.
VEX Robotics company
The VEX iQ Kit is produced by the VEX Robotics company. VEX Robotics is a global provider of educational and competitive robotics products and programs for students.
The company designs and manufactures robots, robot kits, and other educational resources for schools and robotics competitions. VEX also offers professional development workshops and support for educators, as well as hosting international robotics competitions for students.
HEXBUG BattleBots Rivals Platinum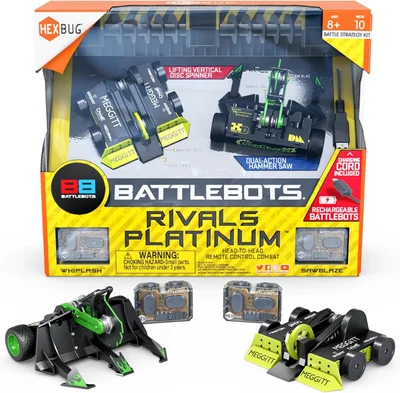 HEXBUG BattleBots Rivals Platinum offers enhanced combat with an additional motor for weapon power. Offering realistic combat, Whiplash and Sawblaze each feature 3 pop-off panels that simulate damage and 4 motors for a variety of weapons. Ideal for improving hand-eye coordination, these educational technology toys provide a competitive yet educational play environment.
With a multi-channel controller and rechargeable batteries, you can challenge up to four bots at once. Win by knocking off your opponent's armor, then reassemble for another round. These robots are exceptional STEM toys that encourage creativity and a passion for building
HEXBUG VEX Robotics Offroad Truck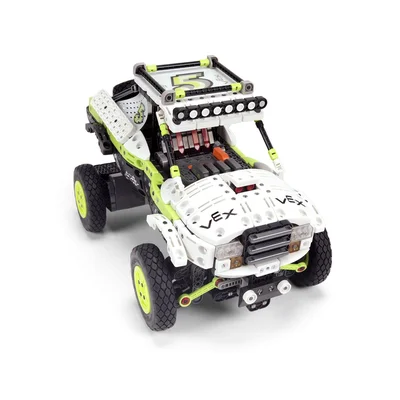 The HEXBUG VEX Robotics Offroad Truck is a remote-controlled vehicle that is designed to tackle tough terrain and obstacles. It features a durable, offroad-style body and large, all-terrain tires that allow it to navigate over rocks, dirt, and other challenging surfaces. The truck is powered by a VEX Robotics motor, which provides smooth, consistent movement and high-speed performance. With its advanced engineering and technology, the HEXBUG VEX Robotics Offroad Truck is a fun and exciting toy for kids and adults alike.
Yahboom Technology
Yahboom Technology is a global technology company that specializes in the design and manufacturing of robotics, coding, and artificial intelligence products for education and entertainment. The company offers a range of products, including robot kits, STEM learning toys, and smart home devices, aimed at helping children and adults learn about technology and develop coding skills. Yahboom's products are designed to be user-friendly and interactive, encouraging hands-on learning and experimentation.
Yahboom Raspberry Pi Robotic Professional Starter Kit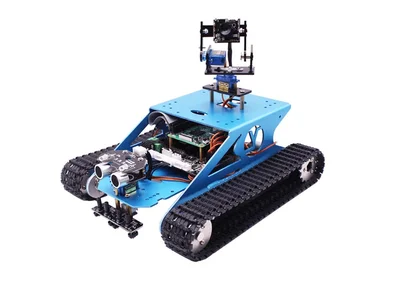 The Yahboom Raspberry Pi Robotic Professional Starter Kit is a comprehensive collection of tools and components that allow users to create and program their own robots using the popular Raspberry Pi single-board computer. It includes a Raspberry Pi 3 Model B+ computer, a high-quality servo motor, a motor driver board, a power supply module, a high-resolution ultrasonic distance sensor, and a comprehensive instruction manual with step-by-step instructions for building and programming your own robot. This kit is suitable for beginners and professionals alike and provides a fun and educational way to learn about robotics, programming, and electronics.
Makeblock Co., Ltd.
Makeblock Co., Ltd. is the producer of the Makeblock mBot Ranger. It is a Chinese technology company that designs and manufactures DIY robot kits and educational resources for STEM education. The company was founded in 2013 and has grown to become a leading provider of robotics and coding education solutions for schools and individuals around the world. Makeblock's products include robot kits, programmable modules, and online learning resources. The company's mission is to inspire creativity and curiosity in young minds through hands-on learning experiences with technology.
Makeblock mBot Ranger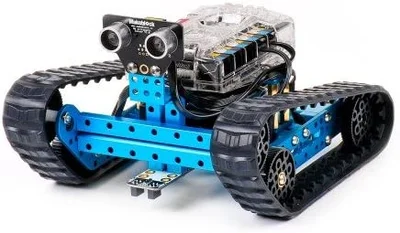 Makeblock mBot Ranger offers 3 pre-made forms namely Land Raider, Nervous Bird, and Dashing Raptor. Children can explore all kinds of coding and STEM projects by creating, operating, and programming mBot Ranger. The powerful engines and extraordinary grip tracks make Ranger suitable for any terrain, so they can take their learning anywhere they go - indoors or outdoors, on rough terrain or smooth floors. And with the free apps & coding guidance available through the Makeblock app, kids can get started right away learning how to control their robot using Scratch or Arduino C programming language. Makeblock mBot Ranger is an educational toy that is sure to provide children with hours of fun while teaching valuable programming skills.
Microbric
The Australian business Microbric which invented the Meet Edison Robot has its headquarters in South Australia. It produces innovative, easy-to-use construction kits for children like the Edison teaching robots.
The company was founded in 2006 with the aim of providing families with an affordable and fun way to teach their children about engineering and robotics. Microbric's products are designed to be used by children aged six and up, and they have been used in schools and homes all over the world.
Meet Edison Robot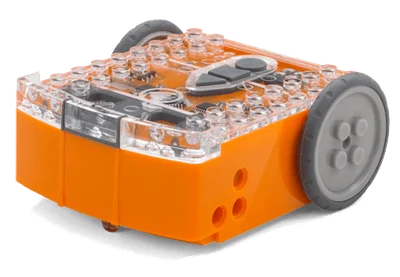 Edison is a programmable robot created to be a complete STEM teaching tool for pupils from 4 to 16 years old learning about coding and robotics. Edison gives kids the tools they need to develop as inventors, problem solvers, and creative thinkers in addition to coders. It is more than just a robot; its sensors and extendable construction system open up new avenues for learning in math, science, critical thinking, engineering, design thinking, and other subjects. If you are on a budget, this robot is definitely one to check out for. The cool part is, it is also compatible with Lego® bricks, so you can have fun building contraptions on top of it.
Clementoni
Clementoni is an Italian company that produces a variety of educational toys, including the RoboMaker kit. The company was founded in the early 1960s and is headquartered in Recanati, Italy. In addition to the RoboMaker kit, they also produce other science- and technology-related toys, such as telescopes, microscopes, and chemistry sets.
RoboMaker Kit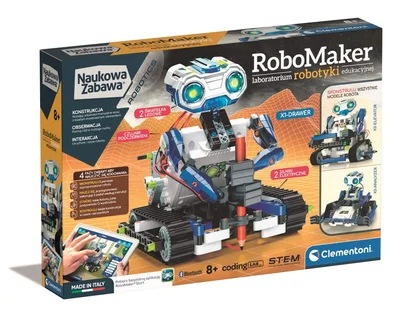 The Clementoni RoboMaker kit is one of the best Lego® Mindstorms alternatives that teaches you about robotics and engineering. With over 200 components, including 2 motors, 1 speaker, and an infrared sensor, you can build 3 robots that will put your computing skills to the test. Whether you're making drawings with the x1-drawer, picking up objects with the x2-elevator, or pushing them out of the table with the x3-analyzer, this set has something for everyone. Costing between 50 and 80 dollars, the robot can be programmed and operated through Bluetooth via the app.
Tips On Choosing Lego® Mindstorms Alternatives
Knowing there are many Lego® Mindstorm alternatives on the market can make choosing one difficult. You need to evaluate each of them properly, which highly depends on many factors, such as your preference and budget. Importantly, you want to ensure that the product is at least as good as advertised and that you get the most for your money. If you are unsure of how to pick one that best fits you, here are some tips that might help you make your decision:
Figure out what you want to use the alternative for
Are you looking for something more educational? Or are you looking for something that's more focused on fun and games? If you're looking for something that will teach you about programming and robotics, then something like the Meet Edison Robot is a great option. However, if you're just looking for something to play around with and have some fun, then Robo Wunderkind might be a better option. Besides to Lego® Mindstorms alternatives, Lego Technic alternatives could be interesting, too.
Research the different options
Once you know what you're looking for, take some time to look into the different options available. Read reviews, compare prices, and check out any demo videos or other resources that might be helpful. It might be helpful to bookmark this article and scan through the list again and start researching the kits that interest you.
Choose something that's compatible with your existing Lego® collection
If you already have a lot in your Lego® collection, it might be worth choosing an alternative that's compatible with those pieces. That way, you can still use the pieces you already have and don't have to start from scratch. From our list, the Meet Edison robot is compatible with Lego Bricks. The robot's body allows you to build contraptions on top of it, so you can design it however you like.
Consider the price
Obviously, budget is going to be a factor in your decision-making process. Compare prices between different options and see what fits best into your budget. The good thing is that they are several options for whatever budget you have. If you have money to splurge, we recommend getting the VEX EDR robots since they are the closest to engineering.
Also, there are plenty of places that offer great products at affordable prices. So, try to find what you're looking for at a price that suits your budget.
Get input from your kids (if applicable)
If you're buying a Lego® alternative for your children, it's always a good idea to get their input on which one they would prefer. Kids can get exceptionally picky despite choosing what is best for them. So, it's best to get their opinion first and help them decide by narrowing down their options. They're the ones who are going to be using it, after all!
Conclusion
Lego® Mindstorms may be discontinued, but that doesn't mean it's the end of the road for robotic creativity. With the wide variety of options available, there is now a much larger selection to choose from, making it easier to find a Lego Mindstorms Alternative that fits your budget and needs. Whether you're looking for a more advanced robot or just something to get your feet wet, there's something out there that can provide the same type (or even more) of educational and creative experience for your child like the best Lego Duplo alternatives. So don't miss out on the amazing opportunities available in the world of robotics - explore the 8 best Lego Mindstorms Alternatives today and give your child the opportunity to explore their full potential.
If you are looking for great Lego deals at an affordable price, you can check the Brickfact app for a price comparison. You can choose from a list of sellers and buy Lego sets at the best price. The Brickfact app informs you via push notification as soon as a new Lego deal is available. It is also free and available for both iOS and Android.