After Lego®'s patent for bricks officially expired in 2008, more and more entrepreneurs seized the opportunity and have been producing their own sets from clamp bricks ever since. This also applies to the Chinese Lego alternative Nifeliz.
The brick manufacturer was founded in 2010 and has always been an interesting Lego Technic alternative. The technic sets from Nifeliz cover different themes, as is the case with the Danish original. In addition to classic sports cars in miniature format, Nifeliz also has tanks made of bricks in its range, for example, which are not available from Lego itself, as they want to maintain the company's family-friendly approach.
There are also some unusual sets from Nifeliz. Or have you ever heard of a coffee maker made from bricks?
Nifeliz Double-Head Coffee Machine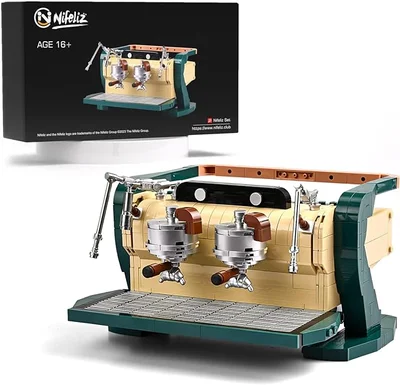 Coffee machine made from bricks
Number of parts: 646
Price: Approx. $35
In the following we carry out a Nifelix VS. Lego comparison and look at the highlights of the two brick manufacturers.
Nifeliz VS. Lego®: Our comparison
The two building block manufacturers differ in many ways, but they also have similarities. The themes of the manufacturers are similar, with both offering a variety of technology sets aimed at both young and older builders. As a special feature, the Chinese brick manufacturer Nifeliz also has some military sets in its range. Lego®, on the other hand, offers many other themes in addition to technology sets. These include licensed themes such as

Harry Potter
Star Wars
Disney
Marvel
The selection of Lego sets is therefore much larger and there are therefore several target groups. The sets from Nifeliz are mainly aimed at young and adult technology enthusiasts.
Compatibility of the bricks
First of all: The bricks from both manufacturers are compatible with each other. This applies both to the conventional bricks and to special bricks that are used for technic sets.
Lego® Technic sets sometimes contain motors that can be used to control the sets remotely. The best remote controlled Lego Technic sets can also be controlled using a specially developed cell phone app.
Sets from Nifeliz, on the other hand, cannot usually be remote-controlled. Anyone comparing the price-performance ratio of the two manufacturers should definitely take this into account. Motors and components that are necessary for remote control are particularly expensive parts. The app development for remote control by Lego also costs money. This is also reflected in the price.
Quality and safety
The quality of the sets from Lego® and Nifeliz is comparable. Both manufacturers rely on CE certification.
Unlike the Danish brick manufacturer Lego, Nifeliz does not have any special bricks for small children in its range. Accordingly, Nifelix sets are not suitable for small children as there is a choking hazard due to the small parts they contain. Most Nifelix sets are suitable for young people aged 16 and over.
Lego has special sets in its range for both toddlers and children. These can be found in the Lego Duplo theme. Duplo bricks are twice the size of conventional Lego bricks.
Nifeliz VS. Lego® Technic: Big price difference?
Below we take a look at interesting technology sets from the two brick manufacturers.
Lego® has had miniature models of well-known motorcycles in its range for some time now. One of the highlights is the Lego Technic 42159 Yamaha MT-10 SP, which is the most powerful Yamaha motorcycle of all time. The model is made up of 1,478 parts and features numerous details such as functioning suspension on the front and rear wheels. The average part price of the set is 15.56 ct/part.
The Chinese Lego alternative Nifeliz also has interesting motorcycles made from bricks in its range. One highlight is the Nifeliz Knuckle Chopper Motorcycle. Unlike the Lego motorcycle, the Nifeliz Knuckle Chopper does not have a license or is not a replica of a specific brand. However, the design is based on a Harley Davidson. The motorcycle from Nifeliz has a detailed 4-piston engine.
Nifeliz Knuckle Chopper Motorcycle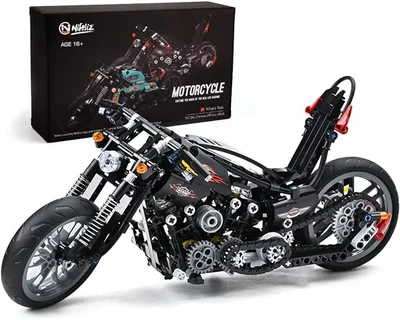 Replica of a Harley Davidson
Number of parts: 451
Price: Approx. $30
Average part price 6.6 ct/part
Even though the Lego model has a Yamaha license, it is more than twice as expensive as the Nifeliz motorcycle. It should be noted that Lego has to pay for licenses. However, the difference in this case is still huge.
Another popular Lego Technic set is the Lego Technic 42154 Ford GT 2022. The Ford GT made of Lego bricks is made up of 1,466 parts and has an average part price of 8.17 cents/part. The model, which is built to a scale of 1:12, has numerous details such as a working V6 engine and opening doors.
A comparison model from das Nifeliz is the RI8 Race Car. The model is based on the Audi R18 E-Tron Quattro RP4. However, the set does not have an Audi license. The model is built to a scale of 1:10 and therefore has similar dimensions to the Ford GT 2022 from Lego. As with the Fort, the doors of the Nifeliz RI8 Race Car can be opened.
Nifeliz is RI8 Race Car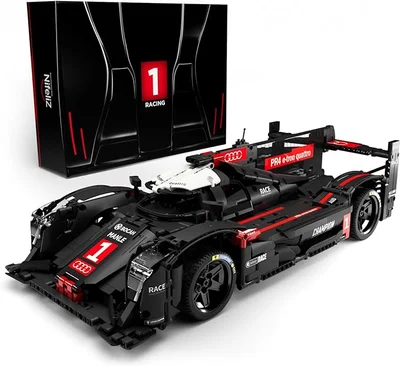 Replica of a super sports car
Number of parts: 1,685
Price: Approx. $70
Average part price 4 ct/part
If we look at the average part price, the set from Nifeliz is also around 50% cheaper in this case.
Availability and offers
Nifeliz is a relatively small manufacturer of bricks. Accordingly, the availability of the sets is somewhat limited, so the sets can only be purchased from Amazon. However, offers are rare, but as the price level is significantly lower than that of Lego®, for example, this is not of great importance.
Lego sets, on the other hand, can not only be purchased online, but also in official Lego stores or retail outlets, for example. There are also frequent offers. Due to the higher price, it is also advisable to wait for corresponding offers to be able to achieve a good purchase price.
Want to buy Lego sets at the best price? In the Brickfact price comparison you can choose from a variety of suppliers and save money. The Brickfact app informs you via push notification as soon as a new Lego deal is available. The Brickfact app is free and available for both iOS and Android.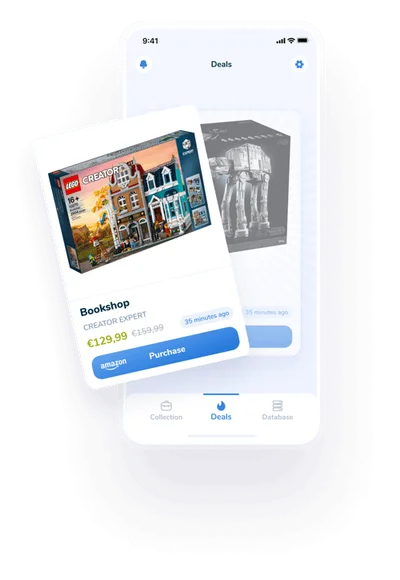 Highlights from Nifeliz
Lego® fans often miss trains in the assortment of the brick manufacturer. With the Nifeliz Big Boy locomotive, Nifeliz offers a suitable set for brick fans. The set is reminiscent of a historic steam locomotive, the Series 4000 of the Union Pacific Railroad known as the "Big Boy", a prime example of the art of engineering that is considered an unsurpassed model of its kind in terms of its dimensions and power.
Nifeliz Big Boy locomotive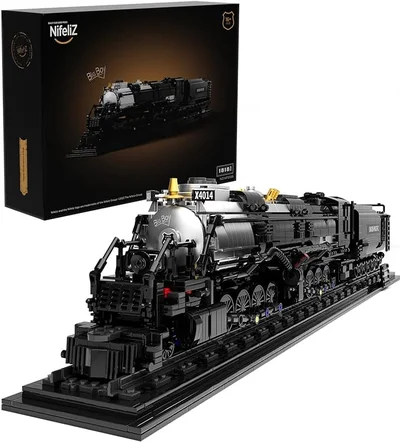 Replica of the most powerful locomotive in the world
Number of parts: 1,818
Price: Approx. $70
Average parts price 4 ct/part
Another exciting set is the Nifeliz Black Hawk pirate ship. The pirate ship consists of 1,352 parts and has six cannons. The interior of the set can also be played with.
Nifeliz Black Hawk Pirates Ship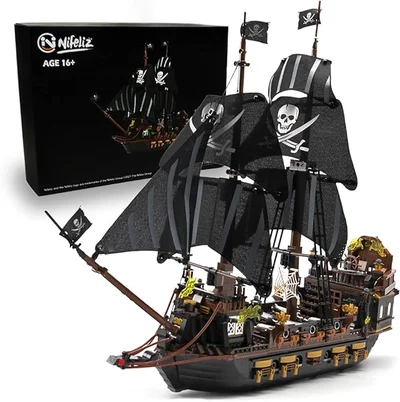 Has six cannons
Number of parts: 1,352
Price: Approx. $55
Average part price 4 ct/part
Nifeliz VS. Lego®: Our conclusion
To summarize, the decision between Nifeliz and Lego Technic sets depends heavily on individual interests and priorities. While Nifeliz offers unique models such as the coffee machine or military vehicles that cannot be found in the Lego portfolio, Lego stands for a broader range of themes including numerous licensed products such as Harry Potter or Star Wars.
Both manufacturers offer sets aimed at young and adult technology enthusiasts, although Lego also has products for small children in its range. The compatibility of the building blocks from both brands makes it possible to combine the sets and create your own creations.
In terms of innovation and technical features, Lego can score points with remote-controlled sets and a corresponding app, while Nifeliz remains traditional in this area. Quality and safety are guaranteed with both brands thanks to CE certification, although Nifeliz's product range is more limited due to the lack of toddler products.
In terms of price, Nifeliz offers better value for money, as the average price of parts is significantly lower than that of Lego. However, it should be noted that the additional price of Lego is at least partially justified by license fees and the availability of motor functions.
Essentially, the decision between Nifeliz and Lego depends on whether you place particular value on innovation, licenses and availability or whether you are more interested in a lower price and exceptional sets. You can find more interesting Lego Technic alternatives in our Mould King VS. Lego comparison.
Nifeliz VS. Lego®: The most frequently asked questions
Nifeliz, known for its engineering sets, is targeting an older audience and challenging years of Lego® dominance. In this FAQ we answer the most common questions that arise when comparing Nifeliz VS. Lego.
What is Nifeliz?
Nifeliz is a Chinese manufacturer of building blocks and offers a variety of technology sets similar to those from Lego® Technic.
Is Nifeliz compatible with Lego®?
Yes, the clamping bricks from Nifeliz are compatible with those from Lego®, including the special bricks for technology sets.
Is Lego® better than Nifeliz?
Whether Lego® is better than Nifeliz depends on individual preference: Lego® offers remote-controlled sets and licensed products, while Nifeliz offers better value for money and unique models such as a coffee machine.
Does Nifeliz offer sets for small children?
No, Nifeliz does not have any special building blocks for small children in its range; its products are not suitable for small children due to small parts.