Lego® Houses Sets For Children
Whether boys or girls, there is a suitable Lego® house for every child. Children from the age of 4 give free rein to their creativity and think up creative stories. Best of all: Thanks to different themes, a wide variety of interests are covered and playing fun is guaranteed.
Lego® Friends Houses Sets
With Lego® Friends houses, girls' dreams come true. From the age of 4, girls discover the world of Lego Friends and experience exciting adventures with their friends. The selection of Lego LegoFriends houses is considerable. In addition to homes, there are shopping malls, cafes or even schools. Many houses consist of several floors and can be played with. The interiors have, among other things, a kitchen or a bedroom. As a highlight, the sets contain the mini dolls popular with little girls, with which the Lego Friends houses can be brought to life. Some kits also include dogs or horses. Small Lego Friends houses are on sale for less than 20€.
Lego® City Houses Sets
Boys from 4 years design their own miniature city with the Lego® City houses made of bricks. There are no limits to creativity, the Lego City houses can be individually combined with each other and create a realistic cityscape. The different Lego City houses include a supermarket or even a school. The interiors of the buildings can be played with and are composed of different parts such as a classroom and a chemistry room. The Lego City houses sets often include vehicles such as cars, buses or motorcycles in addition to minifigures. A large part of the Lego City houses is connected with road plates, which can be inserted into the existing miniature city.
Lego Creator® Houses Sets
Long-lasting building fun and freedom for creativity, this is what the Lego® Creator houses promise. Children from the age of 7 are dedicated to more complex building techniques for the first time and discover the diversity of building. The Creator theme house sets include three different building instructions. For example, a noodle store can be converted into a bicycle store or an arcade. The respective buildings can be played with both from the outside and inside. The interiors include furniture or even small plants made of Lego bricks.  
The 3 in 1 Creator houses occasionally include knights in addition to minifigures, animals such as dogs or giraffes.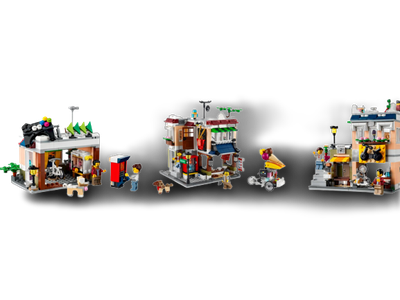 Lego® Houses Sets For Adults
Building fun combined with lots of nostalgia: With Lego® houses, adults set themselves complex building challenges and design their own miniature city out of bricks. The possibilities to give free rein to one's creativity are great. 
Lego® Creator Expert Houses
The modulars (Modular Buildings) of the Lego Creator Expert theme are particularly popular with adult master builders. The Lego® Creator Expert houses are richly detailed and can be pushed together to create a coherent cityscape. The sets are explicitly aimed at adults on the part of the Danish brick company. This is also recognizable on the boxes by an 18+ label. 
Creator Experter houses include, for example, a large block of stores that serves as the city center or a police station with a realistic prison cell.
The sets include many minifigures that make the miniature city come alive. The modulars from Creator Expert start from a price of about 150€.
Lego® Houses FAQ
You want to know which Lego® houses can best be combined with each other and create a harmonious cityscape? In the following FAQ we answer the most important questions about Lego houses.
Which Lego® houses are suitable for children?
Lego® Friends houses are suitable for girls aged 4 and up. Boys of the same age can design their own miniature city out of bricks with Lego® City houses. 
Older children aged 7 and up can take on more demanding building challenges with the houses in the Creator theme. As a highlight, the Creator sets come with three sets of instructions that make it possible to convert the houses.
Can Lego® houses be combined with each other?
The Lego® houses of the different themes can each be individually combined with each other. 
The modular houses from Creator Expert can be connected to each other using Lego Technic components. The floors of the different Modulars are also compatible with each other.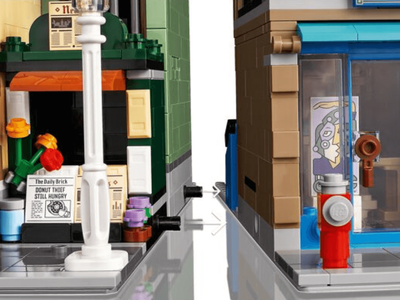 Where can I find building instructions for Lego® houses?
You can find the building instructions for all current Lego® houses at Lego® Online Customer Service. Furthermore, we have summarized everything you need to know about Lego building instructions in a detailed guide.  
The Creator houses have no less than three different building instructions, with which the buildings can be easily converted.
Where can I buy Lego® houses cheap?
Depending on the theme, discounts of up to 40% are possible for Lego® houses. Use the Brickfact discount finder to find the house that best fits your budget. In the Brickfact price comparison you can choose from a variety of suppliers and buy Lego sets at a bargain price. The Brickfact app informs you via push notification as soon as a new Lego deal is available. The Brickfact app is free and available for both iOS and Android.