Are you an avid collector of Lego sets and looking for a way to manage your collection? With the Brickfact App you can keep track of your Lego sets and discover the best deals!
The Brickfact App is great for:
Parents looking for Lego sets for their children.
Investors looking for new sets for their investment portfolio. 
Collectors who want to keep track of their Lego sets.
The best thing about Brickfact is - the app and all its functions are completely free of charge and this with a huge range of functions! With the Brickfact App you can track your Lego collection and know exactly which sets you already have. When there are new offers, you will immediately receive a notification in the deals section so that you can buy Lego sets at the best prices. As a special highlight, you have access to thousands of sets in the database and can filter them as you wish.
Lego® collection tracker
The Brickfact app allows you to easily manage your Lego collection. This way you can always keep track of which sets are already in your portfolio and which increases in value they have achieved so far. 
Collection - Statistics
Under Statistics you have the possibility to view the profits/losses of your Lego® collection in detail.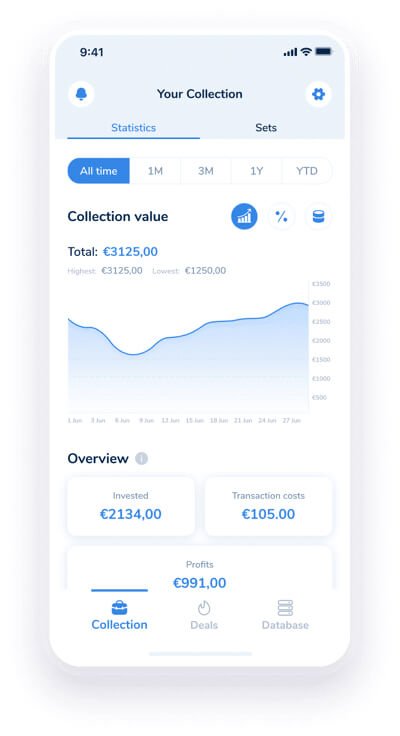 In addition, the performance of each individual Lego set can be tracked, which can be very helpful for future investments. Through numerous setting options, you can view the statistics, which are particularly helpful for you. The development of the market value can be viewed in different time periods. Other statistics that can be viewed with the Brickfact app are: 
Percentage and total return 
EIA value 
Invested capital 
Transaction costs 
Number of issues invested in 
Total number of parts
In addition to the market value of your Lego collection, the purchase value can also be displayed.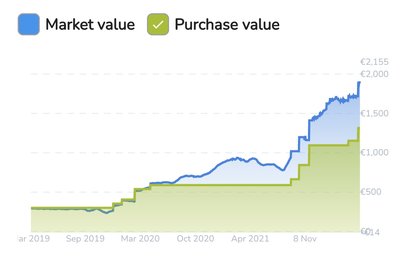 Sets - Collection
The Sets page shows you which Lego sets are in your collection. It is possible to sort or filter by different characteristics. For example, you can sort by the biggest profit and marvel at the increase in value of your sets.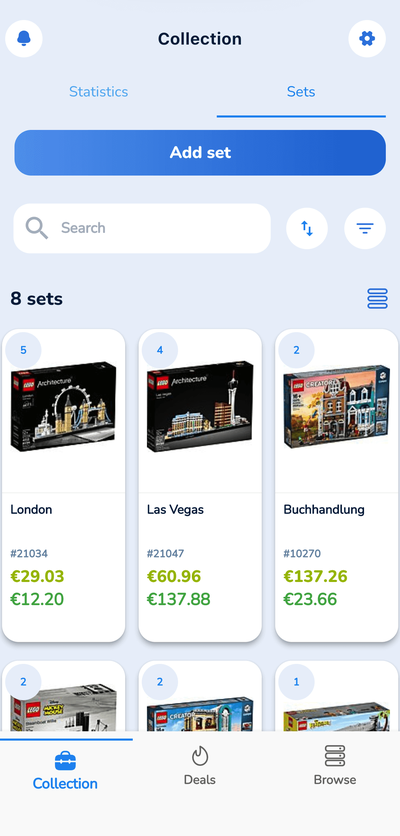 Add Lego® Sets to the Collection
You want to add a new Lego set to your collection or update past purchases? With the Brickfact App this is very easy and only takes a few steps:
Add set 
Enter set number or name 
Price per set 
Date of purchase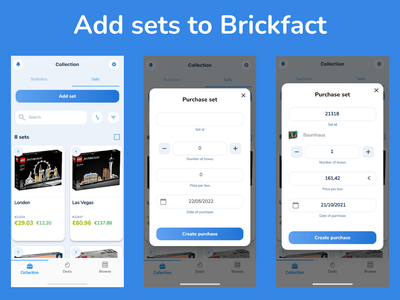 Tip
You accidentally entered wrong information and want to correct it? Under Statistics you can edit transactions without having to sell and re-enter sets.
Remove Lego® sets from the collection
It is just as easy to add Lego sets to your collection as it is to remove them. To do this, click on any set in your collection and then click on the minus sign. In the mask that opens, enter the number and price of the sold sets. In addition, the transaction costs can be listed separately. These are incurred, for example, in the form of sales or payment fees (eBay, PayPal, shipping fees, etc.).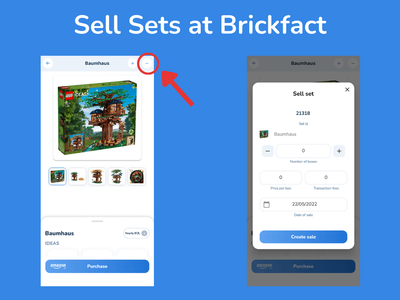 The best Lego® deals
Who hasn't experienced it - there's a good Lego deal and you were too slow again. Many good offers are often only available for a few minutes or hours before they are sold out again. With the Brickfact App you won't miss any of these Lego deals anymore!
Brickfact offers are always deals at the best prices. Our own Lego database helps us to get the best for you and your wallet. 
In addition to interesting offers, there is also an availability alert for popular Lego sets. Occasionally, sets are out of stock, but as soon as they are available again, for example at Lego.com, the Brickfact app notifies you immediately.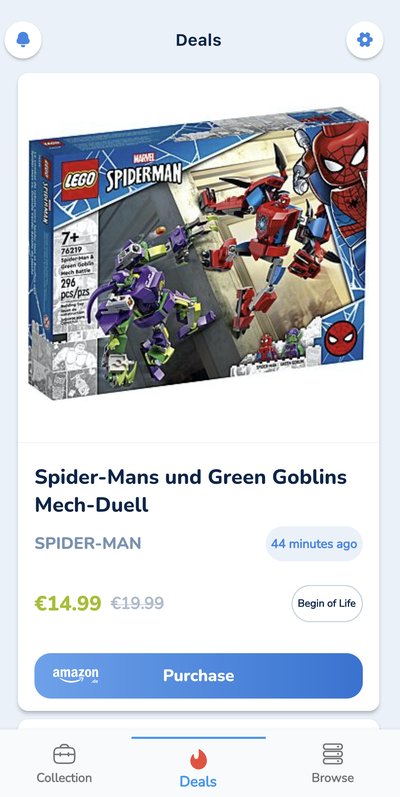 Push notifications - The best directly on your smartphone
To make sure you don't miss any more Lego® offers at bargain prices, there are push notifications. These can be optionally switched on and off. When new deals are available, you will receive a notification immediately.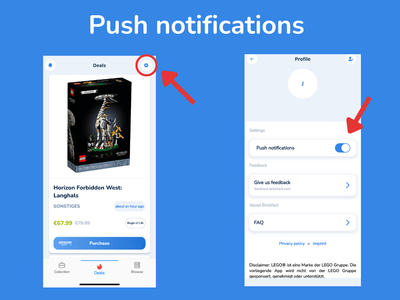 Lego® Sets for Investors
The Brickfact app deal function focuses on relevant sets that are popular with Lego fans. Of course, these have a very good investment potential - in the Brickfact Deals you have direct insight into when a set is expected to go EOL. EOL (End of Life) describes the point in time when a Lego set will be discontinued.
EOL status
At Brickfact we distinguish between the following EOL statuses:
Unknown EOL  
Begin of Life 
Middle of Life  
Nearly EOL 
Already EOL
Lego® sets that are marked with the status "Middle of Life" or "Nearly EOL" are particularly suitable for investments. 
The Ultimate Brickfact Lego® Price Comparison
The Brickfact app has Germany's largest Lego database. Here you can view more than 8,000 Lego sets and choose from an incredible 15,000+ offers in the price comparison. This way you are guaranteed to buy Lego sets at the best price and save real money.
Lego® Price Comparison
In the search Browse of the Brickfact app, you have the option of viewing your Lego set in a price comparison. Brickfact also informs you about the RRP, the current market price, the set number and number of parts as well as the release date - everything important at a glance.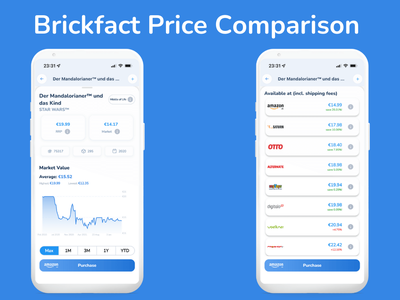 Filter options
You don't know exactly which Lego® you want? Filter options will help you find the Lego set that suits you best - guaranteed! 
You can choose from the following filters: 
Market value
Number of parts 
Year of release 
EOL status 
Theme world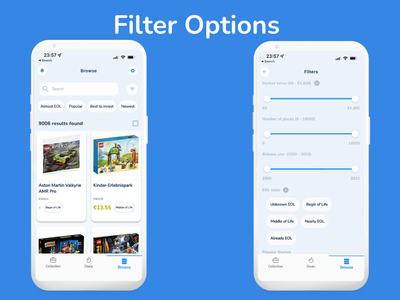 Best to invest
For Lego® collectors and investors, the Best to invest section is particularly interesting. In this section you will find Lego sets that are particularly suitable for investments.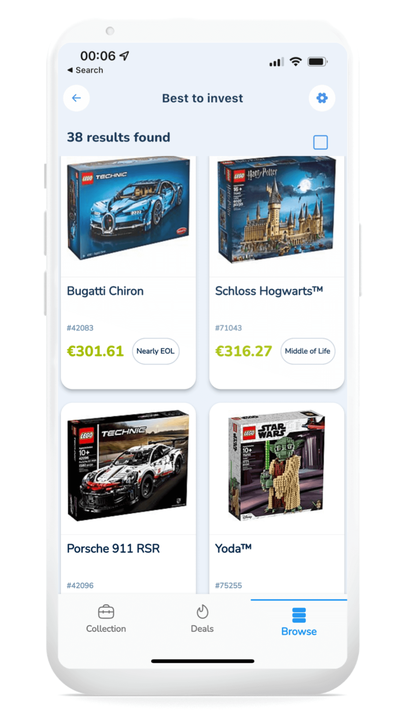 As a highlight, you can marvel at the price graphs of thousands of Lego sets in the Brickfact app. This helps you to analyse and evaluate potential new Lego investments.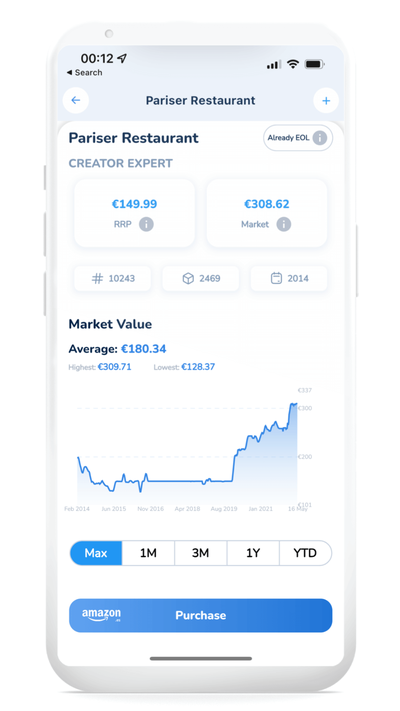 The Brickfact App - An all-round talent
With the Brickfact app you are well equipped to manage your Lego® collection. Lego sets are tracked as easily as stock portfolios, so you always have an overview and know what your current return is. 
In the deals section, you will be informed about the latest Lego offers with push notifications and are guaranteed to buy sets at the best price. The investment tips section is particularly interesting for collectors and investors of Brickfact bricks. 
In the Brickfact database you can search for Lego sets and find the cheapest supplier in the price comparison. Thanks to numerous filter options, you can buy the set that best suits your wishes.  
Best of all, the Brickfact app is completely free and available here for iOS and Android.