Buy Lego® New Arrivals cheap
You want to be there from the beginning and build Lego® novelties directly after their release? - What a question. However, it is also possible to save money when buying the latest Lego sets. In the world of the Danish brick manufacturer, a distinction is made between exclusive, part-exclusive and non-exclusive building sets.
Exklusive Sets
Exklusive sets 🇩🇪 🇺🇸 are sold exclusively by Lego® itself and are extremely rare to buy with discounts. The purchase time of exclusive Lego novelties is accordingly secondary. However, it is worth combining the purchase of new items with VIP points and GWPs (Gift with Purchase).
The collected VIP points correspond to at least a 5% discount on the purchase price and can be redeemed for vouchers or small Lego sets, among other things.
Exclusive Lego® Star Wars novelties
A well-known example of exclusive Lego® novelties are the Star Wars sets of the Ultimate Collectors Series. Kits in this series are particularly detailed and have a large number of bricks. The sets are particularly popular with adult Star Wars fans.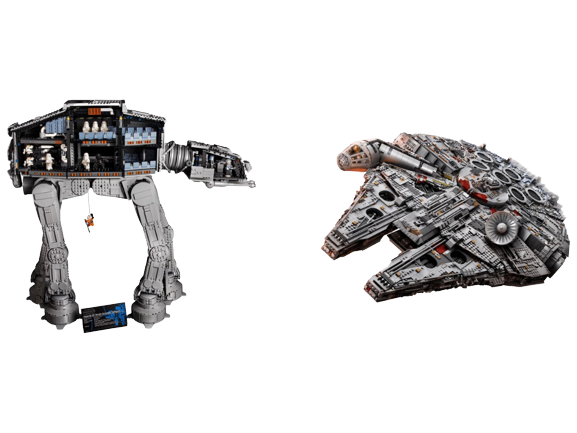 Partly-exclusive sets
In contrast to exclusive sets, part-exclusive Lego® novelties from the Danish brick company can be bought with discounts. Parts-exclusive sets are usually sold exclusively by Lego itself for the first 2 to 3 months. After that, they go to exclusive partners like Amazon or Galeria. Even if it is difficult, it is advisable to be patient and wait for this period. It is not uncommon that Lego novelties with exclusive parts can be bought at the exclusive partners with discounts of up to 30%.
Lego® VIP presale
It is often the case that popular Lego® novelties are sold out shortly after their release. To prevent this from happening to you, Lego offers a VIP pre-sale for popular sets. This makes it possible to buy new items even before the official sales launch. As a highlight, many set releases come with GWPs in the Lego online shop 🇩🇪 🇺🇸.
To participate in the VIP pre-sales, it is necessary to be a member of the VIP programme. We have summarised everything you need to know about the VIP programme in a guide.
Non exclusive sets
Lego® sets that are not exclusive or part-exclusive can be bought in the free trade immediately after release. Discounts of up to 35% are possible after just a few weeks, depending on the theme. Discounts of this magnitude are not achievable at Lego itself. Therefore, we recommend buying non-exclusive Lego novelties from independent retailers. 
Lego® New Arrivals: FAQ
How can I be the first to know about new Lego® sets? We answer these and other exciting questions about new Lego® sets in the following FAQ.
When will new Lego® sets be released?
New Lego® sets are usually released at the beginning of the year or in the summer, and mainly at the beginning of the month. New sets are often available for purchase from 01:00. The rush is particularly great for popular building sets. In this case, Lego works with a digital queue in its online shop so that the sale can take place fairly and there is no overload on the website.
Where are new Lego® sets announced?
In the Lego® Newsroom 🇩🇪 🇺🇸, the Danish manufacturer of bricks officially presents its new products. However, if you want to find out about Lego novelties before the official presentation, you can read about rumours and leaks in countless Lego forums.
When will the new Lego® catalogue be published?
Lego® publishes two catalogues a year, at the beginning of the year in January and in July. In the catalogue you will find a large selection of Lego sets. The catalogue also contains some novelties that are released during the year. But don't worry, not all novelties can be found in the Lego catalogue. So we can still look forward to many surprises.
Where can I get the Lego® catalogue?
You can view the current Lego® catalogue 🇩🇪 🇺🇸 in the form of a PDF on the website of the Danish brick company. Paper lovers have the option of ordering the Lego catalogue home free of charge. The catalogue is also available to take away in toy shops such as MyToys.
When should I buy Lego® novelties?
The timing of your purchase of Lego® novelties should depend on the exclusivity of the sets. As a member of the VIP programme, it is possible to combine the purchase of exklusive sets 🇩🇪 🇺🇸 with VIP points. GWPs are also regularly added to purchases. 
If you want to buy a part-exclusive Lego novelty, it is advisable to wait 2 to 3 months. After this period, the Lego sets will reach exclusive partners and can be bought at a discount of up to 30%. 
All other Lego novelties are available in the free trade directly after the release and can be bought only a few weeks later with discounts of up to 35%.  
Want to buy Lego novelties at the best price? In the Brickfact price comparison you can choose from a variety of sellers and buy Lego sets at bargain prices. The Brickfact app informs you via push notification as soon as new Lego deals are available. The Brickfact app is free and available for iOS and Android.