The LEGO® Star Wars UCS Venator-Class Republic Attack Cruiser has arrived, and it's an absolute dream come true for fans of the Clone Wars era. Set number 75367 boasts an impressive piece count of 5,374 and retails for $650 USD. After more than a decade of anticipation, this UCS Venator is finally here, and it has exceeded many fans' expectations.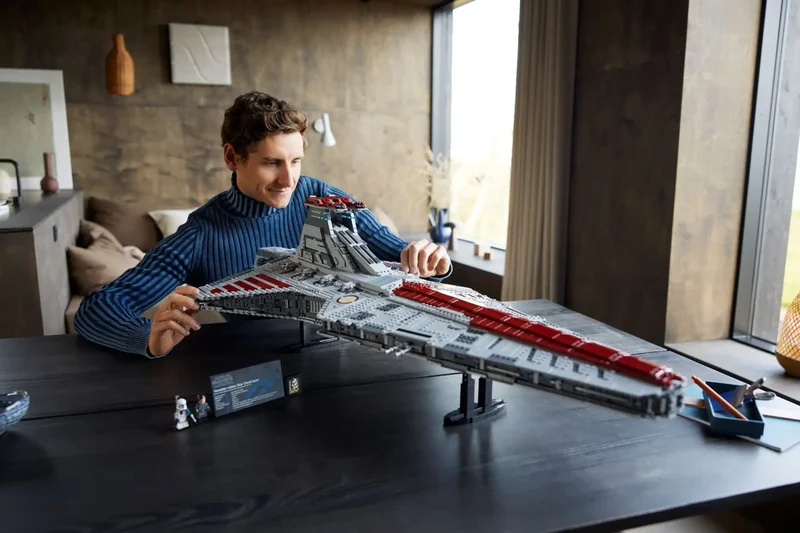 Box and Packaging
The packaging of this set is as impressive as the ship itself. The box features stunning artwork showcasing various angles of the Venator, and it's clear that LEGO® has put a lot of effort into making the box visually appealing. Notably, the box includes a printed plaque, which is now a standard feature for LEGO Star Wars UCS sets. In a surprising and exciting twist, the set also includes a 20th-anniversary Clone Wars brick, a unique addition that adds a special touch to the packaging.
Minifigures
This set comes with two brand-new and exclusive minifigures: Phase Two Captain Rex and Admiral Yularen. Phase Two Captain Rex is a highly sought-after character, and this marks his return to LEGO® after over a decade. The last time we saw Rex in minifigure form was in the 2013 Bark Speeder set. Given the aftermarket prices for Rex figures, his inclusion here is a welcome sight. Admiral Yularen, Anakin Skywalker's main Admiral, is also a first-time minifigure and adds depth to the set's character lineup.
Design and Build
The Venator itself is a masterpiece in terms of design. It's clear that LEGO® has put a lot of attention into capturing the intricate details of this iconic ship. From every angle, the Venator is stunningly detailed, and the overall shaping is excellent. The set features intricate greebling and details, with trans-blue pieces underneath to add extra flair, making it a visual delight.
The UCS Venator includes the iconic double bridge seen in the Clone Wars series. The heavy turbo laser turrets, while not movable, are accurate and well-replicated on the ship's sides. These turrets can be removed and repositioned as desired, adding some customization options. The set also includes a micro interior, although it's not as extensive as some fans might have hoped for. Nevertheless, it's a nice touch and adds a bit of playability to the display-oriented set.
One design choice worth noting is the dark red color of the bridges. This color signifies that the Venator is a flagship, a detail taken from the Clone Wars series. It's a clever choice that connects the set to its Clone Wars roots, as these bridges are not seen in Revenge of the Sith. However, it would have been even better if LEGO had provided the option to switch between dark red and light bluish-gray bridges, as seen in Revenge of the Sith, for added versatility.
Size and Comparison
The UCS Venator is the same length as the UCS Imperial Star Destroyer, but it's important to note that the Star Destroyer is taller and wider. The size comparison between the two sets is quite interesting, as it shows the unique characteristics of each ship. Additionally, when compared to other recent UCS sets like the Razor Crest, Luke Skywalker's X-Wing Starfighter, and the Concord, the Venator holds its own and stands out as a substantial and visually appealing model.
Investment and Collecting Potential
As mentioned, this set will be available for VIP members on October 1st and for everyone else on October 4th, exclusively through LEGO®. However, it's likely to become available at select exclusive partners in 2024, potentially with a few percentage points off the price. Now, at $650 for 5,374 pieces, it comes to approximately 12.1 cents per piece, which is reasonable in the LEGO Star Wars world. Nevertheless, it's undeniably a substantial investment. At this price, it's more of a collector's item or a passion project for devoted Star Wars fans rather than a quick flip for profit. It's unlikely to experience a rapid increase in value shortly after purchase, given the high initial price. If you're a fan of the Clone Wars era or have a strong connection to this iconic ship, it might be worth it for you.
Conclusion
While the set is not without its flaws, such as the presence of stickers (including the open circle fleet symbol) and the lack of an extensive interior, it more than makes up for it with its stunning design, attention to detail, and inclusion of highly sought-after minifigures like Phase Two Captain Rex and Admiral Yularen. This set captures the essence of the Venator and its significance in the Star Wars universe.
Is it worth the $650 price tag? Absolutely, especially for dedicated Clone Wars fans. It's a set that will stand out in any LEGO Star Wars collection and offers a fantastic display piece that pays homage to one of the most iconic starships in the Star Wars galaxy. If you've been waiting for a UCS Venator, your patience has been rewarded. Don't hesitate to add this set to your collection and relive the Clone Wars era in all its glory. May the Force be with you on your building journey!