Lego® Police Stations
Lego® police stations are the center for your miniature city made of bricks. They serve as headquarters for the police officers and house captured criminals.
For little ones ages 2 and up, Lego Duplo police stations are perfect. Price-wise, they start at about 40€ and include police cars and the minifigures popular with children. 
Children from 5 years are happy about police stations from Lego City. The large police stations are available from 80€ and offer lots of fun. In addition to police cars, they also contain motorcycles or helicopters. 
The Lego police stations are large and varied sets with which exciting stories can be acted out - long building and playing fun are guaranteed. More detailed information and recommendations can be found on our Lego police stations page.
Lego® Police Vehicles
Of course, a real police station also includes various emergency vehicles. Without these, it would be impossible to ensure law and order in the cities made of Lego® bricks. As already mentioned, the large Lego police stations already include different vehicles. However, it is also possible to buy Lego police vehicles individually. This is interesting, for example, if you want to expand your police station or just want to go on a crime spree.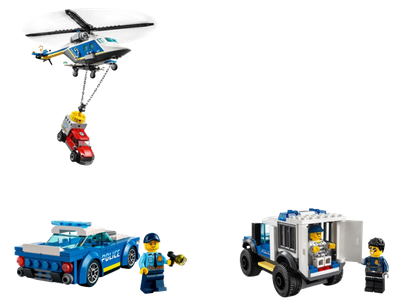 Lego® Police Car
The police car is a classic among police vehicles. This is also the case with Lego®. With police cars from Lego, children experience exciting chases and bring criminals behind bars. Best of all, there are Lego Duplo police cars as well as Lego City models
Lego police cars can be bought for less than 10€ and include minifigures in the form of police officers, animals or criminals as a highlight.
Lego® Police Motorbike
Whether for Lego® City or Duplo, matching police motorcycles are available for both themes. They serve as an excellent complement to the police cars and are equipped with at least one minifigure. Often Lego police motorcycles contain other accessories that are extremely helpful for the manhunt. The well-known police dog is just one possible example. 
Lego City and Duplo police motorcycles are usually the cheapest sets. They are perfect as a small gift and are on sale for under 5€.
Lego® Police Boat
To keep the seas of Lego® City and Duplo a safe place, there are appropriate police boats. With the help of the police boats from Lego, you protect your personal city of bricks from intruders and ensure the well-being of the inhabitants.
The police boats sets from Lego include normal police officers as well as divers or scary sharks.
Lego® Police Helicopter and Plane
"On land, on water and in the air." - Both the Lego® City police and the Lego Duplo police need support from the air. This is indispensable for particularly large-scale operations such as bank robberies or car chases. 
The advantage of a Lego police helicopter is its agility and quick readiness for action. Most police stations even have a helipad, so criminals can be flown directly to jail without a detour. 
Lego police planes, on the other hand, are suitable for transporting larger units. Lego City or Duplo police helicopters are part of the large police stations or can be purchased individually.
Lego® Police: Checklist
You want to know which Lego® Police set is best for your child? In our checklist we give you help and answer the most important questions about the selection of the right set.
Who are Lego® Police sets suitable for?
Lego® police sets are available for children of all ages. For the smallest builders from 2 years, the Lego Duplo police sets are ideally suited. In addition to minifigures and vehicles, these often include a police dog. 
Children from the age of 5 are delighted with police sets from the popular Lego City theme. The selection of sets is considerable, no matter whether it should be a large police station or a small police car.
On land, on water or in the air?
You are looking for a police vehicle? The right Lego police vehicle should be weighed according to the wishes of the child. Lego police cars or motorcycles are suitable for the streets of the miniature city made of sticking bricks. 
In the water patrol Lego police boats and for the airspace are suitable helicopters and airplanes.
Buy Lego® Police Sets cheap
There is a Lego® Police Set for everyone - guaranteed. With the help of Brickfact's filter options you can find the set that suits you best. Thanks to the filter options you can sort Lego police sets by theme or use the discount finder to find the cheapest sets. In the Brickfact price comparison you can buy Lego sets at the best price and choose the cheapest one from a list of sellers. The Brickfact app informs you via push notification as soon as a new Lego deal is available. The Brickfact app is free and available for both iOS and Android.