Lego® City Police Stations
TheLego® City police stations have plenty of adventures in store for children aged 5 and up. Breakouts can be re-enacted and their own stories can be made up. The detailed police stations of Lego City are very diverse and include police cars, motorcycles or helicopters in addition to numerous minifigures. A special highlight is the accompanying police dog. Light and sound effects provide a distinctive play experience. For example, the sirens of the police vehicles sound, and with the searchlight it is possible to place escaping prisoners.
The equipment of a Lego City police station includes, among other things, a jail cell, an office for the chief of police and a lounge for the police officers.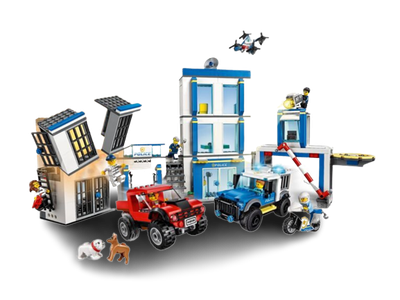 Lego® Duplo Police Stations
With police stations from Lego® Duplo, budding police officers from 2 years of age go on the hunt for crooks and make up exciting stories. With the help of Lego Duplo Police Stations, toddlers build their fine motor skills and develop a sense of justice. 
The police stations represent a focal point in their own city of Duplo building blocks and contain numerous minifigures as well as a police dog. Other contents include a police car or a helicopter. As a highlight, the police cars have light and sound effects. 
Lego® Police Stations FAQ
You want to buy Lego® Police Stations cheap? In our FAQ we answer the most important questions about Lego police stations and show you how to buy them at the best price.
Which Lego® police stations are suitable for young children?
For toddlers from 2 years, the police stations of Lego® Duplo are suitable. In addition to numerous minifigures, these also include police vehicles and a police dog. 
Older children from 5 years recreate exciting and eventful adventures with the Lego City police stations.
Are weapons included with Lego® Police Stations?
Only child-friendly and non-violent items are included in Lego® Police Stations. These include handcuffs, tools, drones or vehicles. With Lego Police Stations, the focus is on developing a non-violent sense of justice. 
Can I expand Lego® police stations?
Lego® City and Duplo police stations can be rebuilt and expanded as desired. This is possible through numerous expansion sets. On the one hand, there are police vehicles such as cars or motorcycles that can be purchased. On the other hand, there is the possibility to buy larger expansion sets, with which, among other things, bank robberies can be replayed. 
You want to buy Lego police stations at a bargain price? In the Brickfact price comparison you can choose from a variety of suppliers and save money. The Brickfact app informs you via push notification as soon as Lego sets are available at the best price. The Brickfact app is free and available for iOS and Android.