Lego® Fire Brigade for children
With the Lego® Fire Brigade, children develop their first sense of safety and learn about the dangers of fire through play. Best of all, Lego fire brigade sets are available for children of all ages. In addition to minifigures, the kits also include vehicles such as cars, boats or helicopters to play with.
Lego® Fire Brigade
Budding firefighters from 2 years learn with the fire brigade sets of Lego® Duplo playfully the dangers of fire and experience great adventures. The Duplo sets are easy to assemble and ideal for toddlers. 
The selection of sets is large. The large sets include the fire stations that are popular with children. In addition to the actual fire station, these also include a variety of vehicles. These include, for example, classic fire engines or even a helicopter. The kits also include minifigures in the form of real firefighters. Other equipment includes items such as a fire extinguisher, a turntable ladder and a slide. With the large fire brigade sets from Lego Duplo you are prepared for any eventuality. 
In addition to the large fire brigades sets of Lego Duplo, there are also smaller ones, which serve as a supplement to the fire stations or as a gift. The small sets often include individual fire trucks and minifigures. The classic vehicles include fire trucks and helicopters. Often the fire trucks have light and sound effects and a Push & Go function. Once the fire truck is pushed forward, it drives by itself for a short distance. The blue lights can flash accordingly and a siren can be played. The children can switch these functions on and off themselves as they wish.
Lego® City Fire Brigade
Your own Lego® fire brigade in the city made of bricks - this is possible with the fire brigades sets from Lego City. Builders from 5 years equip their Lego City city with fire department sets and prepare for eventful missions.
Fire stations as a great gift
The Lego City fire stations are particularly popular with boys. In addition to many minifigures, these contain fire engines such as cars, boats or helicopters. The fire stations have an operations center where emergency calls are received and also a garage for the fleet of vehicles. A landing pad for the Lego fire brigade helicopter is also available. Detailed equipment, turntable ladders, axes or nets make the Lego City fire stations a highlight. Through the usual Lego City sets street plates, you can build your Lego Fire Station into your city of chock blocks and place it next to the police station, for example.
Fire engines: The ideal complement
The large Lego® City fire stations are complemented by smaller sets. The smaller sets are also suitable as gifts. The kits include fire engines and minifigures. The fire engines have realistic turntable ladders and water cannons with which the fires in Lego City are extinguished. In addition to sets that only contain vehicles, there are kits that recreate larger operations. Among other things, these have fire functions that can be triggered. Small sets such as a single Lego fire brigade helicopter with minifigures can be bought for less than €10.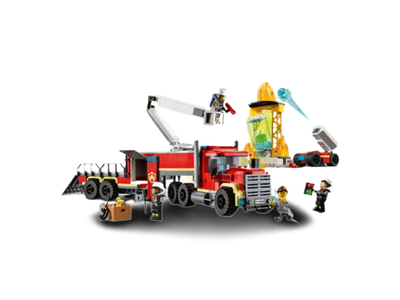 Lego® Technic Fire Brigade for Adults
With the Lego® Technic fire brigade sets , young people and adults dedicate themselves to sophisticated building techniques and learn how large fire brigade models work. Particularly large vehicle models come with two sets of building instructions. This makes it possible to convert the sets or combine them with others. On the Lego Online Customer Service page, you can find out which sets have two building instructions or can be combined with others. In addition, we give you valuable tips on where you can find alternative instructions for Lego sets in our building instructions guide. 
The different sets of the Lego Technic fire brigade include fire engines as well as smaller emergency vehicles. The fire engines have an extendable turntable ladder with which realistic operations can be simulated. Imitation floodlights and tow ropes are also part of the Lego Technic fire engines. As a highlight, some fire engines or emergency vehicles can be controlled remotely with the Control+ app.
Lego® Technic Fire Brigade Helicopter
The fire brigade helicopters from Lego® Technic are particularly popular with larger fire chiefs. The helicopters are richly detailed and have rotor blades that can be rotated. Many models also have rescue hooks that can be extended and retracted and a rescue stretcher that can be used to simulate the transport of injured people.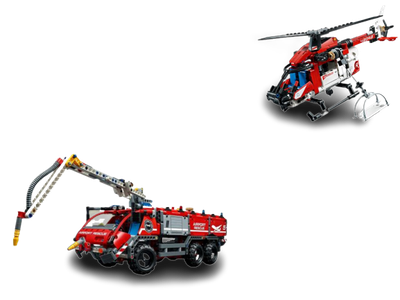 Lego® Fire Brigade MOC
MOCs (My Own Creation) are buildings made of Lego® that have been designed and built by the artist himself. The models are often much larger than conventional Lego sets. They are also sets that have never existed in this form before.
There are many different Lego Fire Brigade MOCs, these include:
Fire brigades 
Fire stations
Helicopter 
Lego fire brigade MOCs are built either from classic Lego bricks or Technic elements.
Lego® Fire Brigade MOC Building Instructions
There are different ways to find building instructions for Lego® fire brigade MOCs. As a rule, however, these are variants that are subject to a fee.
Online marketplaces where you can buy MOC building instructions include: 
In our detailed guide to Lego MOCS we have summarised everything you need to know about building MOCs.
Lego® Fire Brigade FAQ
Would you like to know which Lego® fire brigade set is best for your child? In our FAQ about the Lego fire brigade, we answer the most important questions about the topic and show you how to buy fire brigade sets at a good price.
Which Lego® fire brigade sets are suitable for children?
Fire brigade sets from Lego® Duplo are suitable for the smallest fire chiefs from the age of 2. The assembly is uncomplicated and as a highlight, the fire engines have light and sound effects. 
Older children from the age of 5 play with sets from the Lego City theme.
Is there a Lego® Fire Brigade Helicopter?
Lego® fire brigade helicopters are available in different themes. The helicopters from the Lego® Duplo and City themes are suitable for children. These can either be bought individually or in combination with a large fire station. 
Young people and adults dedicate themselves to demanding building challenges with the Lego Technic fire brigade helicopters. The Lego Technic helicopters are richly detailed and often based on miniature models of e.g. Airbus.
Can I integrate the Lego® fire brigade in the city?
Lego® fire brigade sets can be easily integrated into your own miniature city made of bricks. TheThe Lego City fire stations are particularly suitable for this. Thanks to the familiar Lego City street panels, Lego City fire brigade sets can be integrated into the city. This creates a realistic cityscape and guarantees lots of building and playing fun. 
There are also Lego City police stations to match the fire stations. 
You want to buy Lego fire brigade sets at the best price? In the Brickfact price comparison you can choose from a variety of suppliers and save money. The Brickfact app informs you via push notification as soon as a new Lego deal at a bargain price is available. The Brickfact app is free and available for both iOS and Android.