Lego® Cars for kids
Gasoline in the blood - For both boys and girls, there is a wide range of Lego® cars to play with and discover, even from toddler age. The best thing is that the car models are simply designed and can be built by children without any problems. Most sets feature the minifigures that are popular with children.
Lego® Duplo Cars
With the Lego® Duplo cars, children from 2 years develop a first technical understanding and have lots of fun playing. The assembly of the Duplo cars is uncomplicated and easy to master for young children. With the small and handy Lego Duplo cars, exciting stories can be recreated and many adventures can be experienced. Thus, real-life scenes such as refueling or parking a car can be recreated. In addition to racing cars, there are even police cars waiting to be discovered by you. Police cars have sound effects and racing cars have a push & go function. After pushing twice, the car drives itself a short distance. As a highlight, many Lego Duplo cars include the popular minifigures. Cars from Lego Duplo are on sale for 10€ especially cheap.
Lego® Friends Cars
Little girls aged 6 and up can immerse themselves in a magical world of adventure with the Lego® Friends cars. The models are lovingly designed and fit well into the Lego Friends theme. The convertible models especially stand out and make children's eyes sparkle. Some sets include electric gas pumps that can be used to recreate charging an electric car. The kits include mini dolls and often animals such as dogs or cats.
Lego® City Cars
Racers from the age of 4 bring their miniature city made of bricks to life with theLego® City cars. Whether exciting racing duels or a relaxing ride in a convertible, the selection of models is considerable. Larger sets include road plates on which to drive. Likewise, it is possible to insert the road plates into the existing Lego City city and thus build a road network. In addition to simple road sections, crosswalks and lanterns are just as much a part of the set. For budding police officers, there are also police cars with which exciting chases can be recreated. Also interesting are police stations, which contain several police cars at once. Many of the Lego® City cars sets even include minifigures. Cars of the Lego City theme are on sale for under 10€ and promise pure fun.
Lego® Creator Cars
Slightly older children from the age of 6 have the opportunity to give free rein to their creativity with Lego® Creator cars. The selection of Creator Cars includes conventional street cars as well as sports cars. The highlight of the Creator theme sets that they come with three building instructions. Accordingly, a street car can be converted into a Formula 1 car, for example. Long-lasting building and playing fun is guaranteed thanks to the creative conversion options.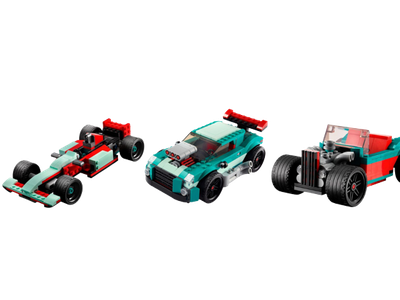 Lego® Cars for teenagers and adults
Historical models of automobile history or remote-controlled racing cars fascinate both young people and adults alike and provide great building fun. The Lego® cars are designed in great detail and are suitable for display, but also for play. In addition, the Lego Technic cars have a variety of technical functions, through which, for example, the functioning of an engine can be learned in more detail.   
Lego® Technic Cars
Lego® Technic cars are where sophisticated building techniques and technical relationships meet. The large and detailed models have realistic drive shafts and gearboxes whose modes of operation can be observed. The selection of Lego Technic cars is large. There are models of well-known manufacturers such as Dodge, Ferrari or Porsche. For particularly large car models, there are alternative buildings instructions that are either included in the kit or can be downloaded free of charge from Lego customer service.
Remote controlled Lego® Technic Cars
In addition to conventional Lego® Technic cars, there are also some models that can be optionally controlled remotely. These have small electric motors that are responsible for the drive. Among other things, the Control+ app from the Danish brick company is suitable for remote control. Remote-controlled Lego Technic cars are more expensive than the conventional Technic models and well suited as a larger gift. You can find out which cars can be remote controlled from the packaging. Alternatively, there is the possibility to view this at the Lego customer service. 
Lego® Racer Car
A piece of racing history for your home - this is what racer cars from Lego® offer you. In addition to racing cars of the Formula 1 series, there are iconic models such as the Aston Martin DB5 known from James Bond films. The Lego racer cars are fun to play with, but are also suitable as exhibits. 
Discover technical details and physical functions with the Lego® Technic racer cars,. Formula 1 fans will enjoy the detailed racing cars of well-known teams such as McLaren or Porsche from the Lego Technic theme. 
Racer cars from the Creator Expert theme are particularly suitable as exhibits. Models such as the Porsche 911 convey motorsport history and feature details such as opening doors.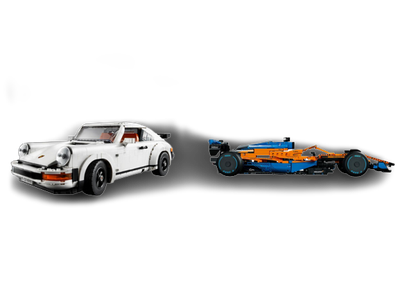 Lego® Cars FAQ
You want to know how to build a simple Lego® car or which models are especially suitable for children? In our FAQ we answer the most important questions about Lego cars.
Where can I find building instructions for Lego® cars?
At Lego® customer service you have the possibility to view the building instructions of all available cars for free and download them as PDF. In our building instructions guide you will find more variations on how to find building instructions for Lego cars.
How fast do remote-controlled Lego® cars go?
Remote-controlled Lego® cars reach a maximum speed of about 20 km/h, depending on the model. The battery capacity is sufficient for about 20 to 30 minutes at this capacity. Those who want to complete longer journeys have the option of using optional spare batteries.
On what surface do Lego® cars drive?
In most cases, the surface does not pose a problem for Lego® cars. However, care should be taken to avoid fine-grained sandy roads, as otherwise damage to the technology can occur. Some Lego cars are even protected against water, so driving through puddles is no danger.
Which Lego® Car is suitable for children?
The selection of Lego® cars for children is considerable. The youngest from 2 years have fun with Lego Duplo cars. For boys from 5 years, Lego City cars are suitable. Girls of the same age will be delighted with models from the Friends theme. 
Older car fans from the age of 6 have the opportunity to build three models at once with the Lego Creator cars. 
Use the Brickfact filter options to find the Lego car that suits you best. In the Brickfact price comparison you can choose from a variety of sellers and buy Lego sets at the best price. The Brickfact app informs you via push notification as soon as a new Lego deal is available. The Brickfact app is free and available for both iOS and Android.